Kingwood Volleyball finished 3rd in our district this year after playing many good teams in non-district games. The team had some ups and downs this year finishing strong in the end across a competitive region and district. We are playing our best right now with two wins over Humble and then a win over Summer Creek a few weeks ago.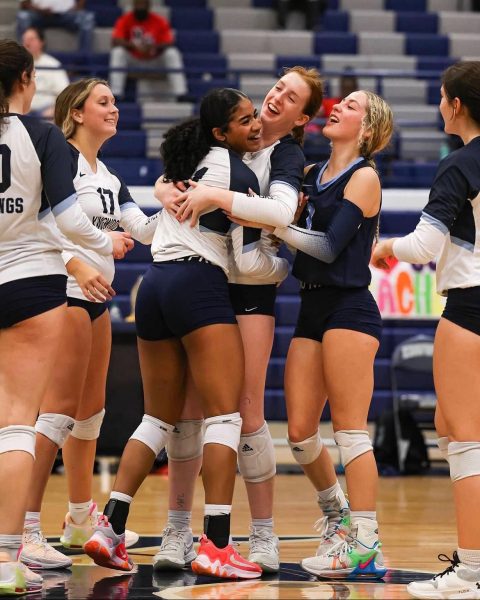 We have had some amazing senior leaders with Morgan Roux, Pemi Areola and Makaela Swoopes this 2023 season leading the team on and off the court. Both Carly Thomas and Morgan Roux were also identified on the District leader board this season for Assists and Digs respectively.
We had a chance to interview seniors Pemi Areola and Ellie Neuman this season and hear about their personal highlights as leaders on the team and volleyball over the past four years at KHS. Here is what they had to say:
Pemi Areola doing what she does always with 91 total blocks this season so far. (Kingwood Counsel)

"My biggest season highlights were us beating SummerCreek in three sets in the second round of district play. Also Coach Mewis hitting 500 wins this season.

The volleyball team is special because we all get along well, and that transfers on to the court for synchronized playing. We all care for each other and want to see all of our teammates succeed in everything they do." – Pemi Areola
Celebrating one another always! (Kingwood Counsel)

"Some of my favorite memories are our pregame dances in the locker room and having my built in family that we can all be our weird selves in. Another one of my favorites is hitting someone in the face in a game and the team will get so hype.

Younger girls- Don't give up if things get hard, everything is going to be hard in life at one point or another but keep pushing through and it will make the great moments even more special, and yourself stronger. Also do everything, go to every game, say yes to every adventure you can while you're young. And biggest of all- respect will take you so far in life on an off the court!" – Ellie Neuman
A great season as a sophomore welcomed by a great group of senior and junior leaders. (Kingwood Counsel)

"I have had so much fun playing on varsity this season. I was a little nervous when we first started practicing since I was the only sophomore on the team. But the upperclassmen showed the way and by the time we played our first match, I felt like they have been my teammates for years.

My biggest highlight was achieving my goal of at least 500 assists on the season.Setters are like basketball point guards. We get the ball to the scorers.I love celebrating with my team after I set the ball that leads right away to a kill. As a team, getting to the playoffs was important. I love the intensity that win and stay in matches are all about." – Carly Thomas
Come out and support our KHS Varsity Volleyball team as they start their playoff run today! Thank you Kingwood family for the support all season.