Volleyball Seniors 2020
Despite the volleyball season coming to a close last fall, the Kingwood Volleyball Program is immensely proud of the senior girls who, despite the chaos of their high school career, chose to pursue volleyball at a competitive level. These girls obtained numerous district championship titles throughout their years in the program and let their 'blue shine through' every time they stepped on the court. To celebrate each of them, their favorite memories and future plans have been compiled.
Katelyn Tillis was #2 and played libero on this year's varsity team. She plans to major in engineering but is still unsure as to where. She will always remember team trips to MOD Pizza and the countless pre-game dance parties.
Ashlyn Baker was a varsity setter and #5 on the team. She will be attending Texas A&M next fall but has not settled on a major. Ashlyn will never forget how excited her teammates were for her when she got promoted from manager to full time setter. She will always love the family she found through volleyball.
Temi Areola was #17 and played as a middle. She plans to go to college after high school and continue playing volleyball. Her favorite memories are nearly getting hit by Coach Mewis' flying clipboard and eating at MOD Pizza with her freshman team.
Jordan Rambo was #23 on the court and played as a varsity setter. She is continuing her volleyball career at Carson-Newman University in Jefferson City, Tennessee. Jordan loved making varsity as a sophomore and becoming close friends with her teammates that year. She is also incredibly happy to soon be a collegiate athlete and dedicates a lot of her success to her mom.
Skylar Roth played as a right side hitter on varsity and was #27. She has not decided her post-high school plans, but will always remember the pre-game dance parties with the girls. She also loved being able to compete and beat both the Woodlands and Klein Oak.
Kaitlyn Morgan was an outside hitter and #28 on varsity. She plans to attend Texas A&M University to study biomedical engineering. She will never forget beating the Woodlands her senior year and everyone crashing the court after beating K-Park her junior year.
Megan Wilson was #30 on varsity and played both as a middle blocker and a defensive specialist. She will be continuing her volleyball career at University of Oklahoma this fall. Megan will always remember when her freshman coach, Mastrom, showed up late to practice with donuts, and she apologizes for anyone she may have maimed by kicking volleyballs across the gym. 
Medina Khoury was #31 and played as a setter on varsity. She is undecided on where she will be attending school, but she hopes to pursue a career in elementary education. Her favorite memory is serving an entire game against Ross Sterling in middle school. She thanks Coach Mewis for always pushing the team to be their best.
Each of the seniors graduating this year has a special place in the volleyball program. Their futures are looking undeniably bright, and, wherever they may end up, they will always be welcome back to the lady mustang volleyball program. Congrats to all the seniors this year; your hard work amongst difficult circumstances has not gone unnoticed, and we are so excited to be able to celebrate you all.
Leave a Comment
About the Contributor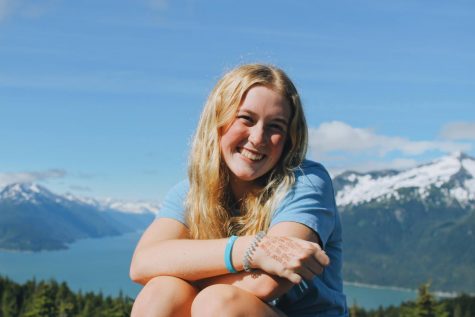 Sawyer Bryce, Volleyball Staff Writer
Sawyer is on varsity volleyball at KHS and writes primarily for the volleyball program. She's also a student council executive and NHS president. She's...