Kingwood girls cross country has done it again in the 3rd consecutive year to be regional champs, 4th in the last 5 years, and 29th overall! This team continues to perform with excellence and is a sought after program at Kingwood High School led by Coach Jeremiah Dye. You can find this group of young ladies up at the crack of dawn daily running the streets of Kingwood dedicated to their sport. While many of us are sleeping-in over the summer, this team is training hard. Congratulations to Julia Shimel, Mary Van Dyke, and Clara Dye as they represented the team with outstanding individual races at regions this year.
We took some time to ask Coach Dye a few questions about the team this year and students headed to state.
Coach Dye, this is your 3rd consecutive year to win at regions. What are you looking forward to with this team of seniors and new runners coming up in the program?
"We have 5 seniors this year and they have done a great job leading the younger runners by showing them the expectations and traditions of Kingwood Cross Country." – Coach Dye
Kingwood has consistently made a good showing at state and I know this year will prove to be another great year for girls cross country. What are some things your runners need to be working on to perform well at State?
"The main focus this year is keeping the pack together. We have done a really good job of keeping our top 4 runners close but we need 5,6 & 7 to make their way up to the #4 runner." – Coach Dye
We all love driving in most mornings seeing the runners excited to be here and in the program day after day with the early morning grind. What would you say to the younger runners coming up in the program?
"I am always reminding them of how fast the four years will go and to take advantage of every opportunity, whether it be practices or a race." – Coach Dye
As you can see, the cross country sport and team can arguably be considered one of the hardest sports or teams in high school and is often forgotten since it does not draw the attention of cheerleaders or a stand filled with parents on those long runs. Running distances is not only stressful physically but also mentally draining because it requires composure and a long-game mentality. It is all about the discipline of training, perfecting race tactics and techniques to be the best runner one can be, and not giving up.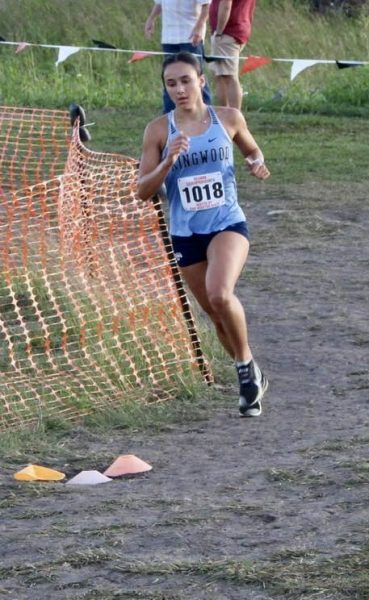 We interviewed senior, Julia Shimel. Julia has been a multi-sport athlete at Kingwood High School qualifying for state with 6A swimming and cross country over her four years in high school. She works hard training and recovering daily. We asked Julia how this senior year was going to be different.
"What's different for me this year is, I have had to step up and be a leader to fill those positions last years seniors left for the team. Individually, my confidence and mindset going into both practice and meets has improved greatly and has had a positive impact on me." – Julia Shimel
Congratulations to this team of runners for keeping Kingwood at the top when it comes to cross country and good-luck at State representing KHS. Go Blue!