Kingwood Girls Track & Field 2023 District Champions!
Resilience is a word that gets used around sports quite a bit. Last night we witnessed resilience, talent, and speed from the Kingwood Girls Track & Field team, bringing it all together for a successful night of winning districts. In addition, the team had many individual highlights to an already fantastic Kingwood Girls Track & Field season.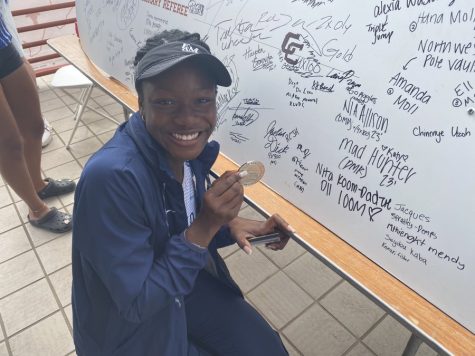 The Kingwood girls had a great showing at Texas Relays, and each varsity meet, improving their times and coming home with several personal records after each meet. Track and Field is a sport that takes discipline in what you put into your body daily and how you show up each day to train and bring your best to the event or race.
Let's start with Texas Relays for Kingwood! Jenna Carter had a time of 10.50.89, landing in the top 10 for the 3200m. Nita Koom-Dadzie, with a new school record, earned a silver medal for the 100m dash with a time of 11.43. Nita is now ranked 5th in the nation in the 100m dash and 2nd among wind-legal times. Both girls, Nita and Jenna, have had a solid year with some fantastic personal records.
Last night our Mustangs brought home the district win against some tough competition. The district title was a team win with many individual highlights of record-breaking races and field events to close out districts and head to the Area track meet on April 20, 2023.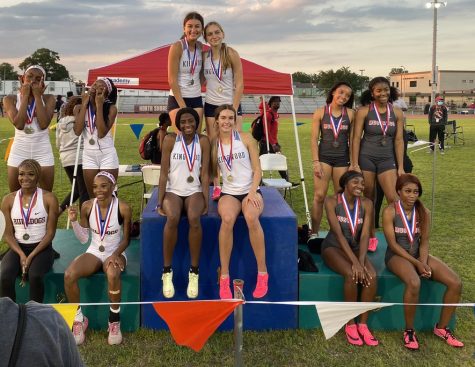 We will start with usually the last race of a track meet that did not disappoint, where Kingwood took home 1st place for the 4x400m Relay as district champs! The team consisted of Freshman Lila Borum (59.5), Sophomore Brooklyn Studdert (59.7), Senior Olivia Allen (57.0), and Junior Evalyn Abdmoulaie (56.8) with a time of 3:53!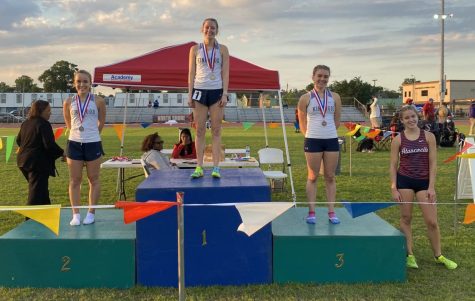 Next was the 1600m with a Kingwood taking 1st through 3rd place and showing our District that we got this race covered with Junior – Mary Van Dyke at 5:05, Senior – Jenna Carter (Texas Tech bound) at 5:08, and Senior – Carly Ahrens (University of Houston bound) at 5:09. This was a solid win for all three girls with district titles for Mary and PRs for Carly.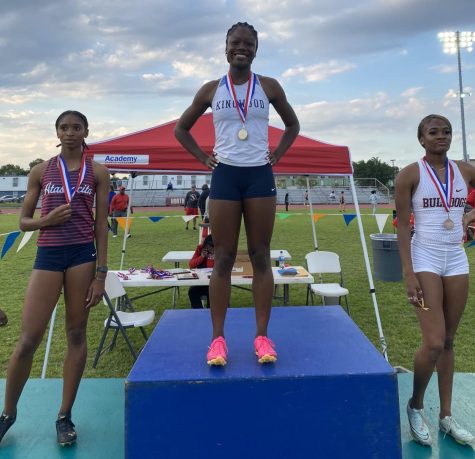 The 200m is usually a tight race, but not when you have Nita Koom-Dadzie setting the tone for the race and leading the pack as our district champ with a time of 23.87! If you watched the race, there was no doubt about who would win. She is a force on the team and a leader at KHS!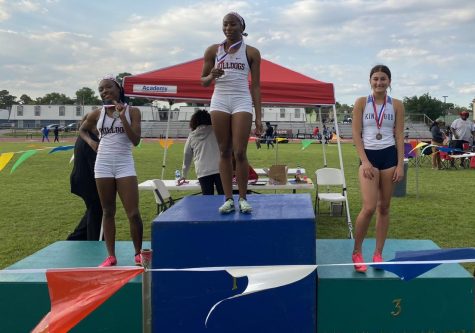 Junior, Evalyn Abdmoulaie advances to the area meet next week with her own individual showing, 3rd place finish (58.07) in the 400m alongside her earlier victory with the 4×400 relay team.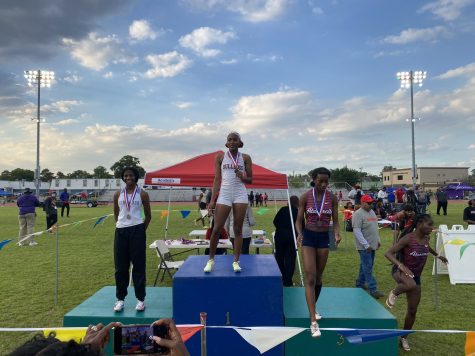 Let's not forget the hurdles with senior Olivia Allen (Villanova bound) finishing 2nd and freshman, Elizabeth Quinn finishing 6th in the 300m hurdles!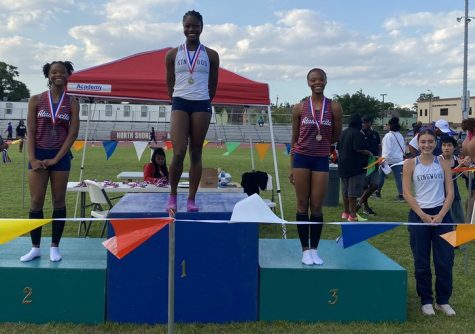 Nita Koom-Dazie does it again with a solid race in the 100m dash as the district champ and Channing Carswell is 4th with both girls advancing to the area meet!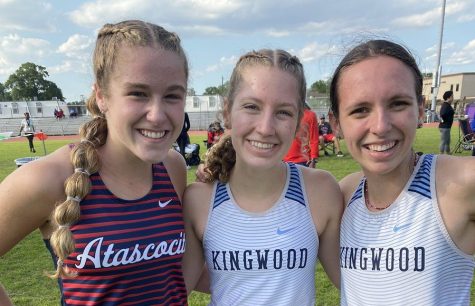 We also had a strong showing in the 800m with runners placing 1st, 3rd and 7th place Ana Small with a time of 2:14 and Mary Van Dyke's time of 2:17 (both PRs)  advancing to the area meet.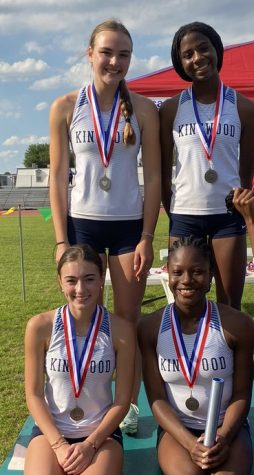 The dream team of Allen, Hormann, Carswell and Koom-Dadzie came in 2nd place breaking the KHS school record of 47.05 and moving on to the area meet next week.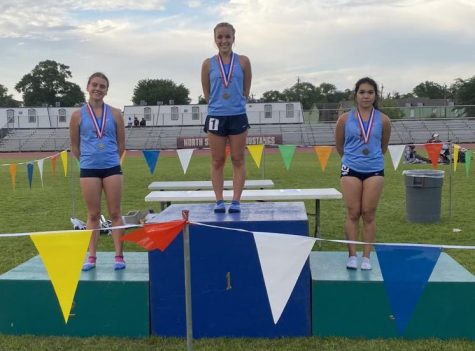 The 3200m was dominated by Kingwood with a 1-2-3 sweep starting with district champion, senior-Jenna Carter, Carly Ahrens with a new PR of 11:02 finished 2nd followed by Eliana Contreras witha  PR of 11:26 to all three advance to the area meet.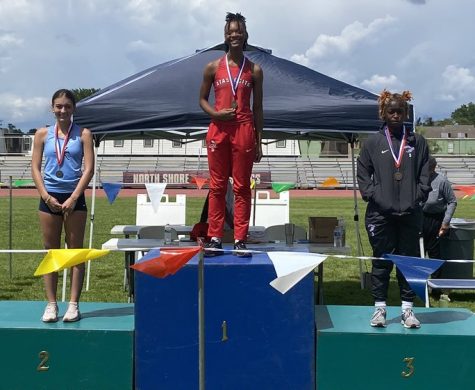 Channing Carswell had an amazing finish as district runner-up in the long jump. Carswell is an athlete to watch in this event as she continues to bring her best to this event for KHS and individually.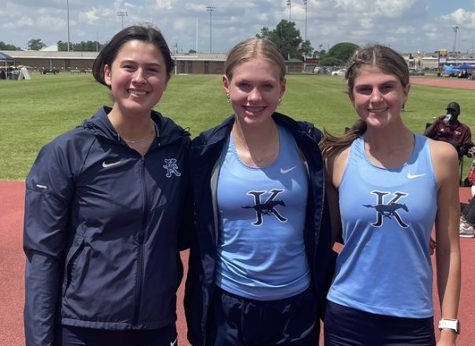 Next on the highlight of field events was the high jump with Sophomore Savannah Byers and Freshman Evan Giles and Senior Kylie Nichols finishing respectively 2nd, 4th, and 6th.  Evan and Savannah continue to push hard and we can not wait to see what they bring to this event each time.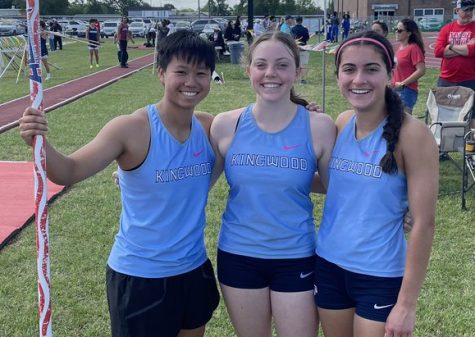 Senior Helen Chan is our district champion in both pole vault and soccer this year. Helen Chan, Audrey James, Isabella Espinosa finished respectively 1st, 2nd and 4th and all advancing to the area meet next week. 
The list of accomplishments for this team is endless this year, starting from a successful cross-country season in the fall for many of these girls. However, what stands out about this program is the team effort, rigorous training, and maximum effort they bring to their practices and meets. Many of these students are not only athletes but students who play multiple sports and excel in academics and leadership at KHS.
We asked a few of the girls how they felt about their own performance and how winning districts felt this past week! 
"I'm very happy about it! The team was so amazing last night. From jumps to distance to throws to sprints, everyone really excelled and put their best effort. In that, we become district CHAMPS! I'm also feeling pretty good about my performance, it definitely feels like a stepping stone leading to greater things!!" – Nita Koom-Dadzie
"I'm very proud of my team and how far we've all come this season! I've been training really hard to get my times down. The hard work has paid off for all of us, now time for the area meet!" – Evalyn Abdmoulaie
"I moved back from Oregon this year to finish my senior year. I am really happy with my team and our ability to get better every week. Personally, I didn't have my best race but I am looking forward to doing better at the next round, area, on Thursday. It was such an awesome and wholesome feeling when we heard that we won the meet. I am just so thankful that it happened with this team." – Olivia Allen
"Competing at the District meet as the youngest high-jumper representing KHS was definitely nerve-racking! But, it's been an honor and a blast competing as a Freshman on the Varsity Team, and lettering this season. I've had so much fun bonding with the upper class-men and look forward to competing with them at Area next week. Go Mustangs!" – Evan Giles.  

"I'll start by saying that the team I am apart of is absolutely amazing. Winning the district title was a big goal for us that we have been working towards and it was definitely a rewarding feeling. As of my own performance I am very happy as of now but am continuing to work hard for more PR's moving into area and so on." – Channing Carswell
"I would say doing track was one of the best decisions so far in high school. This team is like a family to me and they are so supportive for everyone's accomplishments. Although he workouts are tough, I am grateful for them because they help me achieve bigger and better things. I am very excited about my performance this year. My achievements have surpassed my expectations and I could not be happier. I have worked hard on perfecting my skills in both high jump and hurdles and was able to achieve several personal bests and school records. Track has turned from a fun pastime to a sport I hope to pursue in the future. I have my teammates and coaches to thank for that also. They have been next to me, encouraging and pushing me throughout the year. I was so blessed to be a pat of finals night and watch our team become district champs and it was a victory I will not forget. Being there to hear the results and celebrate my team meant so much. We have all worked hard and this is a really talented and great group of girls. I am looking forward to competing with them for years to come." – Savannah Byers
Coch Jeremy Dye runs a solid track program at KHS, pushing the girls team to achieve their best results and bring their personal best to each race they take on. We asked Coach Dye how he would summarize this incredible evening of PRs, breaking records and ultimately winning districts overall for Kingwood Girls Track & Field .
"Atascocita is such a great team. We needed every field event point from Wednesday just to give us a chance at winning on Thursday. We had some big surprises during the final in the 100m, 400m, and 300 hurdles that really kept us close. Then 54 points in the last 3 events of the meet were really everything we could possibly do to win. The girls just really outdid themselves and met their full potential at the exact right moment." – Coach Jeremy Dye
If you see these girls in the hallways at KHS, take a minute to congratulate them and let them know you are cheering for them to take their best race to Area, Region, and State for a strong finish this year. They need your encouragement and support as a school to keep working hard till the end! GO BLUE!
Leave a Comment
About the Contributor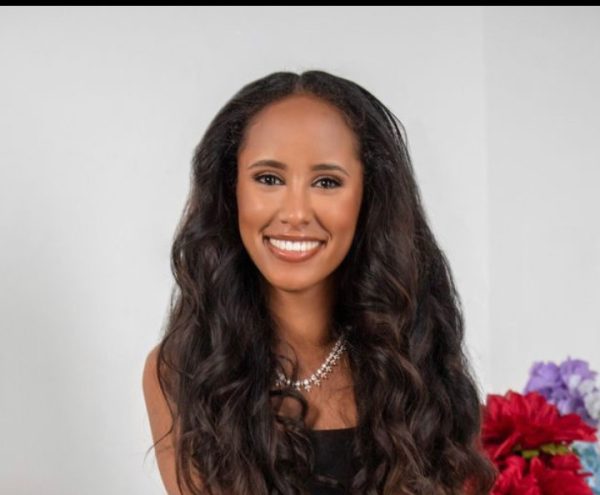 Tamir Shaw, Editor-in-Chief, Sports Editor
Tamir is excited to lead Mustang Monthly this year. She is also a sophomore class officer at KHS and hopes to participate in athletics as a soccer player...