Excellent Results at State for Kingwood Swimming & Diving!
The Kingwood Swimming & Diving team for both boys and girls earned another chance to show their skills and talent at state once again this year. The team has had a strong showing at state over the past seven plus years always bringing back individual and team titles back to Kingwood. This was another great year where the boys team took an overall 3rd place as a team with some individual highlights.

I took some time to interview Coach Robinson and hear from him directly about the teams overall performance and experience at Texas State UIL 6A competition this year. We started with how he felt the overall meet went.
Kingwood Girls Swim & Dive 6A UIL Championships Team; Photo Credit: Team Photos

"State was a great experience for our athletes. My biggest thrill is how our team has really come together this year. The atmosphere and positive environment that our seniors have instilled on both the boys and girls side has been refreshing.

As for performance, our boys really stepped up and came up huge in relays earning the silver medal in both the 200 & 400 free relays. In the meet's final event, the 400 free relay, our boys had to beat Austin Vandegrift to earn 3rd place as a team which was our goal coming into the meet. Eddie Jin, Tyler Grafmiller, Zach Clowers and Brendan Studdert all swam monster relay legs to secure our team's 3rd place finish. The 3rd place finish was total team effort with Brendan, Tyler, and Eddie earning big points individually for the team.

Our girls had a very strong showing with Lizzie Watson, Meredith Fagen, Lauryn Bingley, and Ava Casperson earning 6th place in the medley relay and Lizzie Watson finishing as our highest individual place winner with a 5th place in the 100 back." – Coach Robinson
Next, we asked Coach to reflect on how he will continue to focus on building the program next year and what the focus will be.
"Our program motto is "A tradition of excellence." We believe maintaining our traditions with a focus on excellence will continue to foster a culture of success. The consistent legacy that is left by our graduating classes is that the team is bigger than self and we continue to achieve at a high level through an persistent attitude of making everyone better by striving for continuous improvement not only in the pool, but in life.

"Congrats to our 200 free relay silver medalists: Brendan, Tyler, Zach & Eddie!" Photo Credit: KHS Swim & Dive Twitter

Therefore, I believe that the foundation that is set annually in our program will have a large part in our future success. As always, we will continue to find ways to improve everyday through hard work and dedication while focusing on what makes each athlete perform at their best ultimately culminating in success for our student-athletes both in the pool and the classroom." – Coach Robinson
Kingwood Swimming & Diving continues to be a program that stands out for its student-athletes and we look forward to a strong showing as a team and individually next year. The team is not resting and continues to work hard with club and off-season training daily.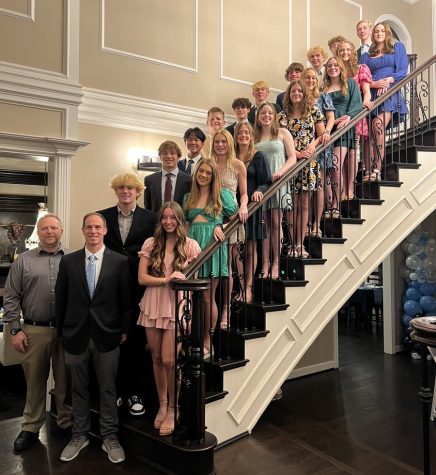 Leave a Comment