Order on the Court – Great Start for Kingwood High School Girls Basketball 2022-2023 Season!
I am excited to not only be a player in the KHS girls basketball program this year, but to also be a part of a program that has started the year with securing its first solid varsity district win against rival Atascocita High School Eagles 55-38 and district wins for both JV and freshman with a record of 2-0 in district. 
It is great to see a varsity team pulled together for the variety of skills they bring to the game making the focus on the team rather than one individual. This team can shoot the ball, create turnovers, jump for those rebounds and defensive plays, and bring speed to the game. Head Coach Laura Vote continues to look to the future by building a strong girls program with players on the varsity team ranging from freshman to seniors. This balance of experience, skill, and strength will serve the program well over the next few years. The Atascocita game and district opener exemplified that for the Kingwood Mustangs.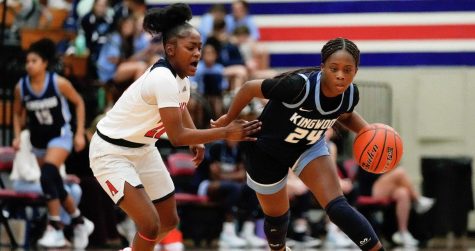 The girls varsity team played together well as a team, coming out strong in the first half of the game and dominating the Eagles going into halftime at 38-20. Mia Stringer, did her job in the game by executing her shots as a solid guard, keeping her eye on the prize early in the game. Kylie Nichols, senior point guard, followed up with 13 points in the game with control and strong defensive plays throughout the game. Makaela Swoopes, junior guard, made key plays early on along with defensive plays in the second half, shutting down the offense of the Atascocita Eagles. Abigail Knigin and Makaela Swoopes brought speed to the team along with Kylie Nichols as a point guard, pushing the team to outpace the other team and wear them down. Pemi Areola was really on her game last night with her defensive rebounds to keep the other team from scoring. Pemi's offensive rebounds continue to put points on the scoreboard for Kingwood. Kylie Nichols continues to be a strong leader for this team running the offense well and forcing the team to pass the ball while always looking for that strategic steal as she does in every game. 
The games against Beaumont United this week did not disappoint: Varsity 54-32, JV 41-35, Freshman 41-11. All girls teams played with heart and kept control of the ball throughout each game. I asked the fans and teammates what they thought about the Beaumont United varsity game. In summary, Mia Stringer played consistently throughout with some amazing 3s and went for every opportunity that was presented to her in the game, ending with 21 points. Makaela Swoopes played defensively creating opportunities for Kingwood to score and forcing the other team to turnover the ball. Kylie Nichols demonstrated leadership that the team needed to complete their plays and had a consistent game both defensively and offensively. Pemi Areola did not disappoint in this game again, executing rebounds offensively and defensively, 13 rebounds in total. Pemi's consistent rebounding give Kingwood extra chances to make a play and score and keep the other teams frustrated and off their game.
Watching the games this past week inspired me to ask some of our starters and captains (Kylie Nichols, Abigail Knigin, Julia Deaver, Mia Stringer, Makaela Swoopes, Fife Adene) on varsity how they felt about the upcoming season and what they were looking forward to this year as a team and an individual.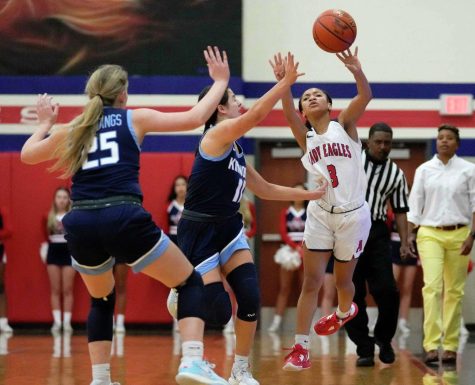 Kylie Nichols was recently quoted in the Houston Chronicle about the Atascocita game. "I thought we played amazing, Nichols said. We played as a team, we played hard, and we finished strong. It's a great win for us and I'm excited for this season." – Kylie Nichols (Captain, Point Guard) – Houston Chronicle
"Kingwood guard Abby Knigin (12) passes as Atascocita forward Kamryn Billiot-Jones defends during the second half of a high school basketball game, Friday, Dec. 9, 2022, in Houston." – Eric Christian Smith/Contributor (Houston Chronicle)

"I am incredibly excited for this season as we have a very experienced but also young team. This year we are looking towards an end goal of making playoffs by continuing to work as a team on the court. Personally, I am thrilled to be back on the court after my recent injury and leading my teammates both on and off the court as a captain." – Abigail Knigin (Captain, Guard)

"I am excited for the upcoming season because it is another opportunity to grow with my team. I am also looking forward to a great senior year. but I'm upset that it's my last year playing basketball." – Julia Deaver (Post/Center)

"Kingwood guard Mia Stringer (25) intercepts a pass intended for Atascocita guard Shania James during the first half of a high school basketball game, Friday, Dec. 9, 2022, in Houston." – Eric Christian Smith/Contributor (Houston Chronicle)
"I feel really good about this upcoming season and the potential of our team. I am looking forward to having a competitive season and aiming for our first playoff appearance since 2017." – Mia Stringer (Shooting Guard)
"I think this season is going to be fun and challenging in a good way. Our team works very well together, and if we continue to play hard, we will achieve great things this season. This year I am looking forward to creating memories with my team and winning lots of games. I am also looking forward to progresng my game and expanding my basketball IQ."  – Makaela Swoopes (Guard)
"I am excited for the season to kick off–especially after winning our first district game. Our team is in a good spot, and we will keep winning more games if we play our way and keep up the intensity." – Fife Adene (Guard)

"Atascocita forward Zoiey Jumawan, bottom left, reaches for a loose ball as Kingwood forward Makaela Swoopes (15) and Fife Adene (22) defend during the first half of a high school basketball game, Friday, Dec. 9, 2022, in Houston." – Eric Christian Smith/Contributor (Houston Chronicle)
Our team continues to be inspired every day by our new coaching staff for Freshman and JV along with Head Coach, Laura Vote. Coach Leslie Houston (Freshman) and Coach Kourtney Keller (JV) are both great additions to the program and bring varying skills and experience to enhance the program at KHS. 
"Being new to the world of coaching and the sport of basketball, it has been eye opening to witness the level of talent that our program attracts. Most of our athletes are multi-sport athletes along with being academic scholars. I admire their ability to juggle the responsibilities on and off the court. Our freshman team is packed full of talented young athletes eager to continue the traditions of KHS Mustang basketball. The future is very bright for the girls basketball program here at KHS. I am proud and honored to be a part of their journey." – Coach Leslie Houston (Freshman)

"The JV team this year has a lot of talent and has shown from early on that they will give their all on the court. They work hard in practice and in the games, pushing each other to be their best. Coach Vote has done a great job with the girl's basketball program and preparing all teams for a successful season this year." – Coach Kourtney Keller (JV)
Coach Vote brings it all together as a veteran coach that continues to have an amazing program that girls are drawn to each year. I asked Coach Vote what she would like to say to us players in her program and specifically to her varsity team that she has assembled for the 2022-2023 season?
"I am so proud of this program and the varsity team. They compete and push each other every day in practice. The seniors have done a great job leading by example and keeping everyone focused on our team goals. They also put in the work during off season and preseason and it is showing." Head Coach of KHS – Laura Vote
Girls basketball can be a tough sport playing at the 6A level having a top 5 team in our district play. Coach Vote, what would you say to the girls in the KHS program to keep them motivated to come out  and play with some tough opponents and schedule?
"We are a talented, deep team that has great chemistry. If we continue to focus on the team's success and play together, we will compete with every team in our district and have a great shot at playoffs." Head Coach of KHS – Laura Vote
Kingwood High School community, come support this great team and help carry them with your support to a solid playoff run this season.
Resources:
Gutierrez, Marcus. "Kingwood Routs Atascocita in District Opener." Houston Chronicle, 10 Dec. 2022, www.houstonchronicle.com/texas-sports-nation/hs-sports/article/Kingwood-Mustangs-Atascocita-Eagles-basketball-17644374.php?utm_source=twitter.com&utm_campaign=sftwitter&utm_medium=referral#photo-23258376.
‌
Leave a Comment
About the Contributor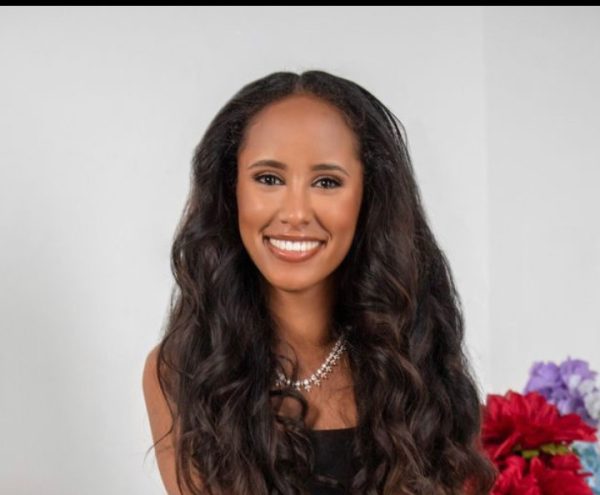 Tamir Shaw, Editor-in-Chief, Sports Editor
Tamir is excited to lead Mustang Monthly this year. She is also a sophomore class officer at KHS and hopes to participate in athletics as a soccer player...