Kingwood Boys Basketball Preview 2020-2021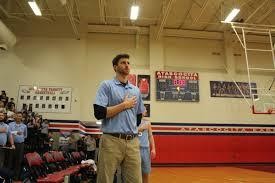 The Kingwood Boys Basketball season has begun and is already in full-swing. The Mustangs currently hold a 3-1 record and are playing a tough pre-district schedule to prepare for a very difficult District 21-6A. The Mustangs are led by fourth-year head coach, Monte Cole, and are assisted by first year JV-coach Nick James, a 2008 Kingwood High graduate who played on the numerous State Tournament teams under Coach Huseman. This year is a special year for Coach Cole, as this will be his first year having coached every player in the program for their entire high school experience. The Mustangs return Seniors Billy Gould, Jake Nichols, Chris Mullins, Kade Janikula, and Grayson Carroll as well as Juniors CJ Nunn, Demi Areola, Mason Carlos, and Tommy Neuman. Seniors Jacob Codoluto and Bryce Otis are making their first appearances on Varsity, as well as Juniors Micah Dees and Jalen Hill.
The Mustangs recently won two games on back to back days, defeating Texas City 48-45 on the road, behind Micah Dees' 15pts and Billy Gould's 12pts, and then taking down a tough Pearland Dawson team 57-52 at home, behind Billy Gould's 26pts and Jake Nichols 9pts. The Mustangs are looking to build on last year's post-season berth, and Coach Monte Cole looks to lead the team to a deep playoff run. The Mustangs play at Home on 11/24, 12/1, 12/5, and 12/8 before opening district play looking to avenge their first-round playoff loss at Home vs. North Shore on December 15th. Some notable dates for the Mustangs this year include hosting their rival Atascocita Eagles on January 19th, and Senior Night on February 5th. We wish the Mustangs good luck on their season!