Opening Texas in Stages and Schools Closed for the Year…
The news this past weekend was hard for many students and families in Humble ISD to digest.  For Kingwood High School, this past weekend was supposed to be senior picnic, prom and the start of the senior celebrations and recognitions for the Class of 2020. Students were still holding out hope for UIL sports playoffs and championships to be postponed and to still continue in a distanced manner.  Per Texas Governor Greg Abbott's Executive Order made in his state press release last week, Humble ISD is extending its school closure until the remainder of the school year for 2019-2020. Humble ISD was thoughtful to release their own press release to help families understand what they can expect from their teachers and administration over the next few weeks.  Take some time to read their approach on their continued distance and on-line learning plans, meal distribution and key logistics to close out the school year.
It looks like the district is still trying to work out solutions for graduation for their five high school campuses in a way that will honor their students accomplishments. "For our graduating seniors, Humble ISD is committed to providing a graduation ceremony. It is our goal for our seniors to have the opportunity to wear their caps and gowns, and hear their names called in front of their families, when it is safe to do so. While we cannot finalize plans with the current limitations in place, please know that we intend to communicate potential dates next week." – Humble ISD Press Release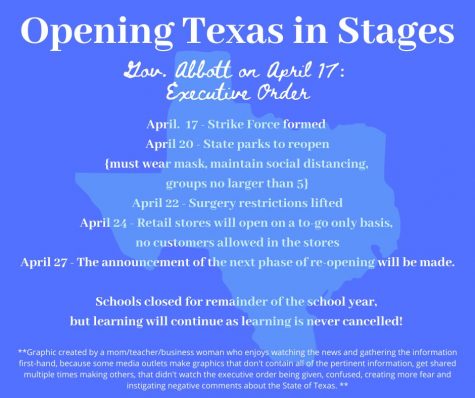 Many may be asking what has changed with Governor Abbott's Executive Order for this week.  I came across this graphic that outlines a good summary of how we will open Texas in stages. The word "opening" may engage many people to start hitting the grocery stores on a regular basis, start gathering in large numbers and students hitting the street together. What people need to realize is that we are "opening" in stages and not much has truly changed for the larger population as we are still instructed to stay-home at all costs and continue to maintain social distancing.  I do believe there are many people that have health issues outside of COVID-19 in large numbers that need to have their elective procedures, surgeries and treatment started. I am thankful to see that retail stores will be given the continued option of curbside sales and delivery to keep them going during this time.  One thing we know for sure is that schools are closed for the remainder of the school year. We will be talking about this for years to come as there will be many research position papers written discussing and analyzing the effects of this pandemic on education, mental health and the economy.
What does this truly mean for students and their families in Humble ISD.  This means continued uncertainty in many homes where parents are still working full-time juggling their jobs and students at home 24×7.  We can expect unemployment across our country  in large numbers with people losing their jobs and possibly their homes and livelihood. If we think student stress was not already at an all-time high, I can only imagine what isolation has done for many students across our district that need to feel encouraged by their teachers and peers daily.
This is not an easy solution for our district and state but one that is necessary to continue to keep flattening the curve of the Coronavirus. Take time to encourage your neighbor, an old friend or a family member.  People are in need of that personal touch and an encouraging word is all we can give at this time minus the physical contact.
Leave a Comment
About the Contributor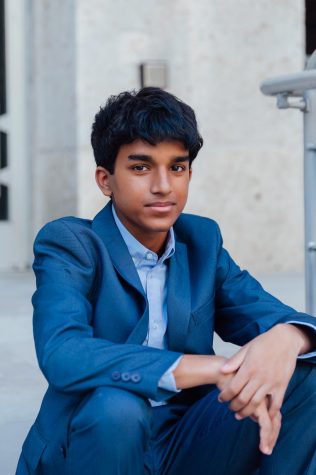 Jacob Shaw, Sports Editor
Jacob is a current senior who was part of the original founding group of Mustang Monthly his freshman year. Jacob is and has been the first sports editor...