College Applications: What has changed due to Covid-19?
The upcoming admissions process will be accompanied by uncertainty and many questions due to the current Covid-19 situation. Many rising seniors might be wondering what this will mean for their application, and how this will affect their chances of getting into a particular school. Based on my own research and from joining multiple college admissions officers' livestreams and zooms, I have a few answers on test-optional policies and what to do this summer and while we wait on additional information.
Test-Optional Policies: Many colleges have already announced that they will no longer be requiring SAT or ACT scores as part of the application.
What if I've already taken the SAT/ACT?

Just because colleges are not requiring standardized tests, this does not mean you cannot still submit them! In fact, if you are happy with your current results, it may be a way for you to stand out in the sea of applications. Just remember, your admissions officer has to read everything, and they cannot unsee what you send them. Most colleges post data relating to the average test scores by application year, so you could use this data as a benchmark to see how your own scores compare. Many colleges use these testing scores to see if you qualify for merit scholarships, which is an incredibly important part of the admissions process for most people.

If I don't have test scores, how can I stand out?

There are many ways to have a stand-out application other than test scores. In fact, some could argue that test scores are one of the less important parts of an application. This is a reason why so many colleges have changed their test score policies prior to this pandemic. These colleges understand that not all students perform well on standardized tests, and look at their application as a whole. 

What will this mean for the future of college admissions?

Many colleges that are going test-optional for the upcoming application season are considering extending this policy by a few years or even indefinitely. Nothing is definitive so far, but some universities will wait to see the results of this forced test run of the test-optional policy. 

Which colleges are going test-optional?

It differs greatly from college to college. Notably, the University of California system (which includes UCLA, UC Berkeley, UC Irvine, and others) has decided to go test-optional for this application season. In previous years, the UC system has required the SAT or ACT, along with the essay or writing portion. At the moment, it may be too early to know if there will be opportunities to take standardized tests before applications are due, so many colleges have not announced their plans. It is incredibly important to check the admissions websites of your colleges to find information regarding Covid-19 policies, and to see if anything else will be changing this year.
While we wait for more news about the upcoming application season, what should I do in the meantime?
Get started on your applications! 

Even though some policies may be changed, your applications will still take a long time to complete. While we have spare time right now, or over the summer, you can get started on answering the Common, Coalition, or Texas Application prompts! Although most applications do not open until later in the summer, most prompts are already released. If colleges and universities are not requiring standardized test scores, having strong essays that represent who you are is very important. You can find the 2020-2021 prompts

here

(common app),

here

(coalition app), or

here

(texas app).

Contact your teachers for Letters of Recommendation! 

Now is a great time to contact the teachers you plan to have write your letters of recommendation to ask if they would be willing to do it. Some teachers place a limit on the number of LoRs they write in a year, and it is better to ask them early, rather than too late. This also gives the teacher plenty of time to write. Even if they won't write over the summer, it is still nice to give them a heads up so that they know what's coming in the Fall.

Continue to study for the ACT/SAT!

SAT testing has been scheduled for the Fall, so make sure to continue to study for your tests if you still plan to take them! Khan Academy can sync with your College Board account to provide personalized practices for you based on previous SATs or PSATs. They also provide scholarships if you practice on Khan Academy for a certain number of hours and improve your score by a certain number of points!
I am in no means an expert, so it is important to check with each individual college on what their Covid-19 policies are. You may even be able to contact your admissions officer directly! If you are applying to college this year, it is important to stay on top of your application to-do list, and stay informed!
Leave a Comment
About the Contributor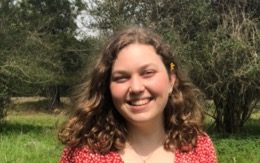 Alex Richmond, Features & Lifestyle Editor
Alex Richmond enjoys being a part of this newspaper and adding her creativity in any way she can. She is president of Model United Nations, and is involved...