What Band Has Been Up To in Concert Season
Kingwood High School Band has been busy in the past few months. Some events that transpired were Region Band, the Winter Concert, Disney, and Solo and Ensemble. Region Band took place in December, the Winter Concert in January, All-State just last week (February 12), the Disney Trip over the February Break, (the 5th-9th), and Solo and Ensemble this past weekend.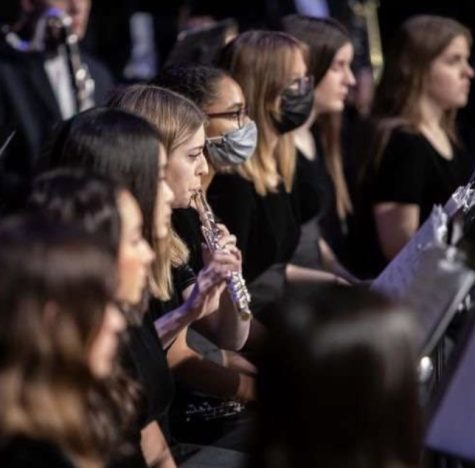 There was an excellent turnout for the TMEA region competition this year, with 8 students making it into District Band, 37 students making it into the region band, 16 advancing to area, and one advancing to All-State. This is 7 more students advancing to the region and 9 more advancing to area than last year. Students who made Region Band were placed into either Wind Ensemble, Symphonic Winds, or Philharmonic Winds, based on their performance at auditions. They then attended a 2-day clinic and performed a concert in December at Summer Creek High School. The outcomes for the region competition were outstanding, along with the clinics and performances that helped students grow as musicians.
The KHS Winter Concert took place on January 28. The concert was accompanied by 8th-grade students from Creekwood and Riverwood Middle School who made the region band. These students were invited to play a few songs with Symphonic Band and Wind Ensemble. The high schoolers and middle schoolers had rehearsals with one another beforehand. KHS Band also had their own songs for the program, and there were numerous soloists and duets. Overall, the concert was a success in that it was a great performance and experience.
Another great experience for KM4B this season was the trip to Disney World in Orlando, Florida over the February Break. The trip consisted of time at Magic Kingdom, Universal Studios, Hollywood Studios, Epcot, and Disney Springs. The band also participated in a workshop, where they played Disney music, recorded it, and then got to see it put together with the movie it was from. This was an opportunity to see the way that professional musicians rehearse. It was exciting that the band was able to go, with the spread of Covid-19 being a risk. The trip was a thrilling experience for all involved and it was great to get to go to Disney together as a band.
After the band returned, they prepared rigorously for Solo and Ensemble performances. UIL Solo and Ensemble happened on Friday, February 18th, and KHS Solo and Ensemble was held on Saturday, February 19th. The new KHS competition, started last year, is an opportunity for those who are unable to go to UIL to compete in a solo or an ensemble. The band received high ratings at both events, with many 1s, 1+'s, and even 1++'s. 90% of those who competed achieved a 1. Numerous ensembles and soloists are advancing to the State UIL Solo and Ensemble Contest.
KHS Band has been on the go in recent months, and there's only more to come!
KHS Students who made Region Band:
Wind Ensemble:
Mary Fraissinet
Alani Harwood
Noah Wiedrich
Dylan Champion
Brigham Baer
Diego Martinez
Ross Calcote
Cameron Springer
Roan Fausterman
Seth Patterson
Symphonic Winds:
Sarah Reach
Christine Gonzalez
Anne Ebersbaker
Finley McDonald
Sean Sullivan
Luke Bass
Josh Cantu
Adam Lavin
Caleb Cleverly
Samir Patel
Diya Rauser
Brody Ronk
Jack Kruse
Philharmonic Winds:
Charlotte Karner
Christian Wilson
Austin Figueroa
Caleb Malone
Sarah Fernandez
Connor Sniderwin
Students who advanced to Area:
Mary Fraissinet
Alani Harwood
Noah Wiedrich
Dylan Champion
Brigham Baer
Diego Martinez
Ross Calcote
Cameron Springer
Seth Patterson
Roan Fausterman
Sarah Reach
Josh Cantu
Adam Lavin
Brendon Young
Katie Pratt
Students who advanced to All-State:
Brendon Young
Congratulations to everyone!