Fillies Highlights for 2018-2019
The Kingwood Fillies had a great start to the the year with exciting performances at varsity football games and school pep rallies. Along with preparing for competition season, the Fillies also attend many school events such as, varsity football and basketball games, and perform at multiple school pep rallies. In February, the Fillies began their competition season, competing at three state competitions and at nationals in Los Angeles. This year the Fillies won overall grand champions at Crowd Pleasers regionals, as well as overall grand champions and overall grand champion officers at Ascension Dance regionals. Next, the Fillies went onto the Crowd Pleasers state showcase where they placed as overall state champions and overall state champion officer group. After their state competition, the Fillies travelled to Los Angeles, California for Crowd Pleasers nationals.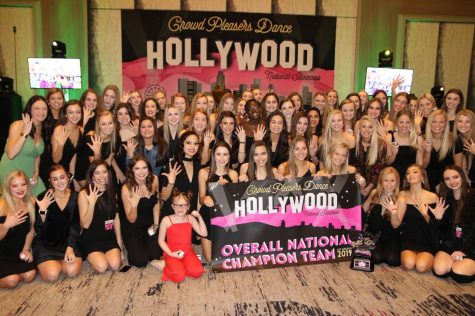 At nationals, the Fillies won National Champions and National Champion Officers. After their successful season, the Fillies returned to KHS and prepared for their Spring Show. Under the direction of Mrs. Pelfrey and Mrs. Lewis, the Fillies pulled off an exciting spring show. As of now, the Fillies have completed try-outs and have decided the team for next school year. Fillies dedicate a strenuous amount of time and effort to the school and support other activities any way they can and everyone on the team is so excited for new year!