KHS Tennis Finishes Strong and Heads to State
This year has seen much accomplished by the Kingwood tennis team. Varsity finished 21 in the state, while all three teams placed first in districts. The team has made great strides as they have been guided by sixth year Head Coach Timothy Green and the well-liked Assistant Coach Greg Dwyer.
This year's varsity had a good season in the fall finishing 21 in the state. For the third consecutive season, they were undefeated in district play going 8-0. They were eliminated in the region semifinals, meaning they were one of the final 16 teams in the state. by the number one team in the state, Houston Memorial. This tied the second longest run (2017-2018) in school history.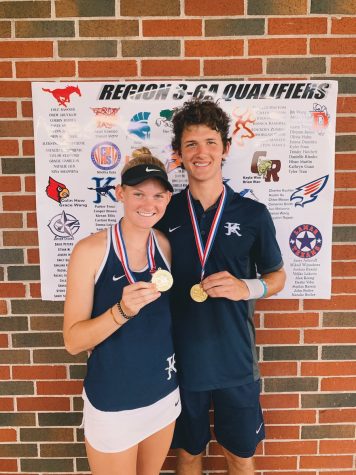 In the spring, Dalton Locke and Maddie Bezner were the first players from Kingwood to go to state in over a decade and a half. The last team to go to state were the Hurlbert brothers in doubles. The team is beginning to get much younger these next two years, so the numerous current freshmen and sophomores will have to work on their games in order to continue Kingwood's tradition of success in tennis.
The line between junior varsity and freshmen can be unclear as many freshmen are on junior varsity and two freshman players on varsity in the fall. Both teams have pushed hard to win first place in districts.
The 2018-2019 tennis season has been extremely successful and all we can do now is look ahead to what will hopefully be a better season this fall.
Go Blue KHS Tennis!