The Cold Never Bothered Them Anyway…
KHS Orchestra Takes Grand Champions at Winter Ski Park Music Festival
Ice, snow, and… orchestra?
For the Kingwood High School Orchestra program, the ski trip is a long lasting tradition that all students look forward to as it is a "once in a lifetime" opportunity since the program participates in this trip every three years. This year, Kingwood High School took its chamber and philharmonic groups to compete at the Winter Park Ski Music Festival along with some fun skiing, snowboarding, and other activities at the Winter Park Ski Resort in Colorado. Preparations for the trip were made almost a year in advance in order to ensure everything would run smoothly. The Philharmonic orchestra played Spirit of Colorado, Labyrinth, and Andante Festivo, while the Chamber orchestra played Adventure on Bainbridge Island, Cinema Paradiso, and the Finale of Tchaikovsky's Serenade for Strings.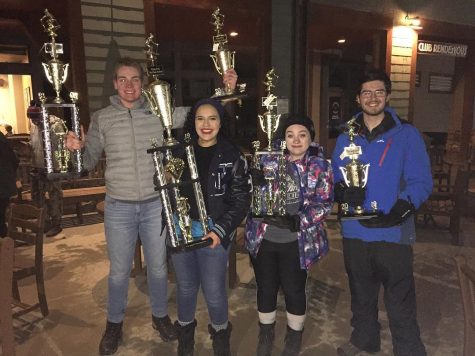 On a cold Saturday evening, hundreds of students from all across the country gathered in the heart of the village for the awards ceremony followed by a street dance. Both Kingwood orchestras had gotten superior rating trophies. Although this was an outstanding accomplishment, there was another award on their mind — Grand Champions.As the announcer cleared his throat to announce the grand champions, the air became tense and quiet. The Kingwood Orchestra students held their breath. Then, as if it were a dream, the words "Kingwood High School Chamber Orchestra" could be heard. It took a moment for the crowd to digest this before the first celebratory cry erupted followed by cheering and screaming from all the Kingwood students. Although their bodies were cold, the students' hearts were full and warm as they soaked in the glory of their hard work.
I interviewed Mrs. Hale, our hardworking and beloved head director, and I asked a few questions about the immense preparation and highlights of the trip.
Daphne: How early did you start preparing for this year's trip?
Mrs. Hale: June of 2018!
How did you feel in terms of readiness in the days leading up to the trip?
The orchestras were very prepared and the foundations for a successful trip had been set. We were incredibly fortunate to have incredible parent support on this trip.  One parent volunteered to drive the equipment truck to Colorado and back! We are incredibly grateful to Mr. Engelhardt!
Did you feel confident after the performances for each class? What were some things you were concerned or worried about during the performance?
Yes.  As with any travel north of Texas, I was a little anxious about how the wooden instruments would react to such a stark climate and humidity change.  Thankfully, we were able to spend some time tuning that helped alleviate some of the tuning issues.
What was your favorite part about ski trip?
Honestly, making such incredible music at 10,000 feet elevation was priceless.  I don't think I will ever forget that feeling! Also, being on the slopes together as an orchestra was so much fun.  The memories we made on this trip will never be forgotten.
Were you expecting all these awards (especially Grand Champions)?
Honestly, I wasn't sure where we stood because there were groups competing from all over the US.  Also, there were several international groups competing. Three years ago, we won Best in Class with both orchestras, but we did not walk away with the Grand Champion trophy.  We are very humbled and honored to have been selected as the 2019 Winter Park Ski-Music Festival Grand Champion!
How did you feel when you heard our school's name being announced for Grand Champion?
Thrilled!  Elated!
What is something you would like to tell the orchestra/tell the school about our orchestra?
To the KHS Orchestra: I am so incredibly proud of you!  The journey we have been on together this year has been such a thrill!  I can't wait to see what heights we will conquer next year as an orchestra!
To KHS:  KHS Orchestra is an amazing organization. Nearly 10% of the KHS student body is enrolled in orchestra! Students come from all disciplines – HOSA, Football, Soccer, Basketball, German, etc.  Students in orchestra have fun and are successful. We are an organization that values the excellent work of our individual students. It is a quality that makes our entire organization the best it possibly can be.  We are so blessed to have students like you in our program.
Although their bodies were cold, the students' hearts were full and warm as they soaked in the glory of their hard work.