Lady Mustang Soccer
The Lady Mustangs varsity team finished off an amazing year with an overall record of 23-2-3 Scoring 143 goals and conceding only 15. In addition, they also have gotten the title of district champs for 29 years in a row!
These amazing stats gave Kingwood a chance to compete in the state playoffs.
Their first game was played against CE King in which they won 7-0. In the second round, they proceeded to win 8-0 against George Ranch.
In the third round, the Lady Mustangs played against one of their rivals, Deer Park. In this hard fought game, Catherine Childs scored a penalty kick, and Emma Ebert scored two amazing goals assisted by Savannah Moore and Elle Smith. This gave the Mustangs a 3-1 victory.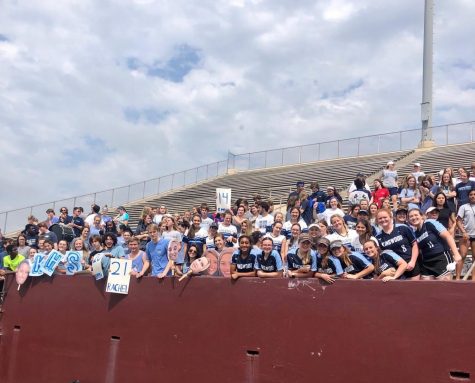 Next, the Lady Mustangs had to face Cinco ranch in round 4. With a packed student section, the girls were ready to play. In the heat of the game, Kingwood still came out with a win. The goals which were scored by Jenelle Dumais, Elle Smith and Catherine Childs. This gave Kingwood a 3-0 win and allowed them to move on to the 5th round of playoffs.
With a highly sought after bid to the state tournament, the next game against Katy Tompkins was a very important game for the Lady Mustangs. Katy Tompkins led the game 0-2 until Jenelle Dumais made an amazing goal, making the score 1-2. Katy Tompkins got another goal making the score 1-3, but soon after, Sam Arrollado scored off a corner from Jenelle Dumais making the final score 2-3.
Although this wasn't the Mustang's desired outcome, they fought hard for the whole game, and are ready to make it to the state tournament next year. Alex Dumais (11)  said, "Losing in the fifth round by one goal is tough. This loss just puts more fire under use for next year. I couldn't be more proud of what we accomplished this year and I'm so excited to see the growth and development that happens for next year. We all know exactly what this team is capable of and next year the goal of going to state remains the same". Overall, the Lady Mustangs had an amazing season with much to be proud of, and the team can't wait for what next year will hold.