What Is DECA?
DECA gives high school students hands-on experience in marketing, business, and entrepreneurship. Its goal is to prepare future leaders for successful careers. It was founded in 1946, and DECA originally stood for "Distributive Education Clubs of America." The group now calls itself "An Association of Marketing Students" but continues to use the DECA acronym. More than 222,628 high school students currently participate in DECA globally.
Kingwood DECA, like other chapters, will participate in community service projects, business challenges and learning activities and competitions regionally, statewide and nationally. We will get involved in fundraising for competitions and work with FBLA to bring guest speakers and mentors to work with our members.

Who is our leadership team? Tamir Shaw, Janak Krishnan, Matthew Freel, Brody Ronk, Addison Maher, Nicolas Tijmes and James Knigin.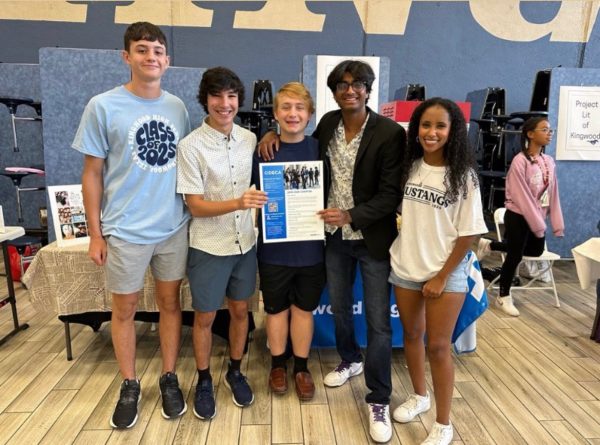 What Are the Benefits of Joining DECA?
Being a member of DECA means far more than simply writing a new activity on your resume. It is a place where you can start building and showcasing your skills, knowledge, and experience. You forge connections and participate in exciting opportunities that will foster your growth as an individual. Close to 91% of DECA members in chapters globally say their involvement prepared them for college and future careers. Being a part of the DECA community expands your horizons and challenges your future thoughts about where you see yourself in college and a career.  
You will have the opportunity at competitions to work and compete with an elite group of people. Texas DECA is represented well. You will meet business leaders for the future prospects of internships or even influence your future career. There are opportunities to win many awards, be recognized for your service and scholarships. Joining DECA is an excellent way to prepare for college and career success, impress college admissions officers, and jumpstart future business opportunities.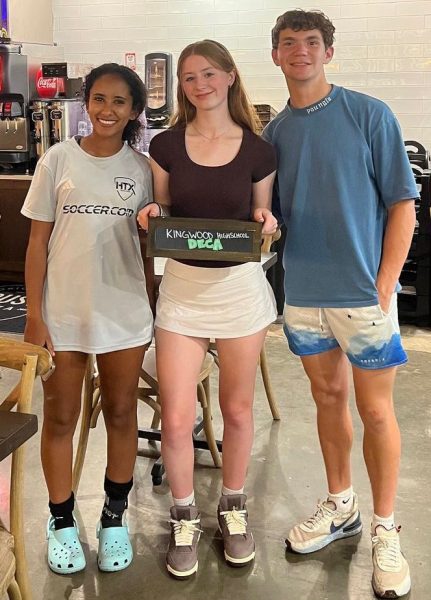 What does it mean to Make Connections?
Business is all about making those connections and networking. I recently met with a student on a college tour who talked about the many opportunities she pulled from to make the most of her college life and now her future. I was sitting at the University of Texas this past year and heard many stories about how DECA opened doors for individuals. 
DECA is not about meeting just your peers, but also other successful business leaders and DECA Alumni. Who knows, you might connect with a future business leader, partner, college roommate, or make lifelong friends through DECA!
Why is it important to Demonstrate Leadership Ability?
DECA members talk about how their time at leadership conferences and participating in DECA activities fueled them to be effective leaders. DECA gives you opportunities to develop leadership skills in communication, teamwork, problem solving and critical thinking. These are the skills colleges and future career opportunities are looking for in you. You can also lead locally, at state or even strive to be a national officer some day, who knows!
Developing these leadership skills in high school makes you a stronger candidate for colleges and gives you the competitive edge you need for the future. Colleges of today are looking for leaders that will impact their college communities.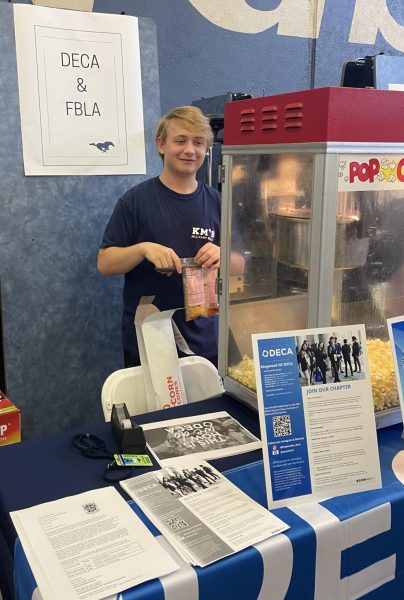 What are DECA Campaigns?
DECA chapters participate in campaigns related to membership, promotion, ethical leadership, community service, and advocacy. These campaigns are designed to grow the chapter and build lasting partnerships within the school and community. 
This year Kingwood DECA will be working on our membership campaign as this is our inaugural year for bringing DECA to KHS. We will also be participating and leading a Service Day that will bring our Mustangs together giving back to our local community.
Why Get involved in School-Based Enterprises?
Some DECA chapters participate in certified school-business enterprises (SBE). SBEs are school-based learning laboratories that give students practical, realistic learning experiences. 
Many DECA students gain their first work experience through participating in an SBE. They build skills in professional business, leadership, and management. Students may attend the annual School-based Enterprise Academy, where they share ideas with other SBEs, attend professional development sessions related to entrepreneurship, and compete in an SBE-specific competition focused on best practices.
Kingwood DECA members are already forging this partnership with the KHS Print Shop as a start this year and we hope to expand this opportunity as we continue to work with project moonshot and many more programs. 
What is the big deal about Educational Conferences?
DECA conferences connect DECA students across the nation with corporate professionals as they learn industry-related content and trends. DECA offers conferences in leadership, career development, and career pathways. Career pathways conferences, like the Sports and Entertainment Marketing Conference, feature highly specialized content aligned with specific career paths. All conferences directly support the development of 21st-century skills.
Conference sessions cover topics like:
Creativity and innovations

Financial, economic, business, and entrepreneurial literacy

Communication and collaboration

Critical thinking and problem solving

Leadership and responsibility
Students attend networking events and often tour iconic landmarks and businesses in the city where the conference is based, like NBC Studios in New York, Universal Studios in Orlando, memorials and museums in Washington, D.C., and more. Many conferences also feature college and career exhibits, where students can learn about a variety of universities and career options.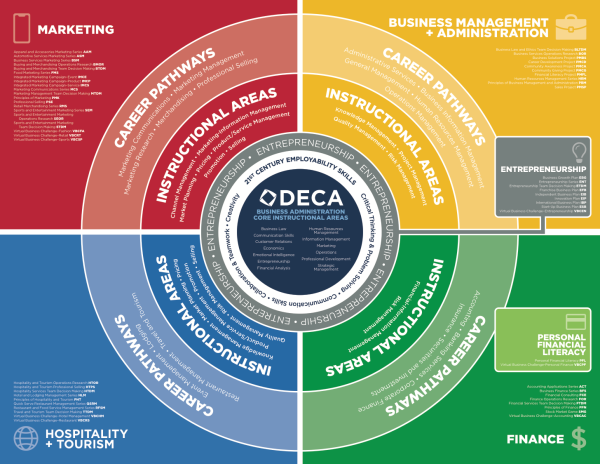 Why do I need to Compete in high school?
DECA competitions engage participants in creatively solving real-world business problems and scenarios. Winning or placing in DECA competitions can provide another boost to your college applications. These industry-validated competitive events involve a written component and an interactive component judged by an industry professional. 
Members can compete in competitions related to business management and administration, hospitality and tourism, entrepreneurship, marketing, finance, and personal financial literacy. Examples of DECA competitions include:
Business Growth Plan

Professional Selling

Retail Merchandising Series

Virtual Business Challenge-Fashion

Virtual Business Challenge-Sports

Financial Consulting

Stock Market Game

Innovation Plan

International Business Plan

Marketing Management Team Decision Making

Start-up Business Plan

Entrepreneurship Team Decision Making

Community Awareness Project

Virtual Business Challenge-Restaurant

Virtual Business Challenge- Hotel Management
What are the Awards and Scholarships?
In addition to placing in competitions, DECA members can win awards like the DECA Emerging Leader Honor Award, which looks impressive on college applications.
Even better, DECA's scholarship program annually provides more than $200,000 in scholarships to DECA members. Scholarships are merit-based and typically funded by DECA's corporate partners. Each scholarship is administered based on guidelines set by the donor, which usually include academic performance, leadership ability, DECA involvement, and community service.
A few examples of DECA scholarships.
Why haven't I joined DECA already?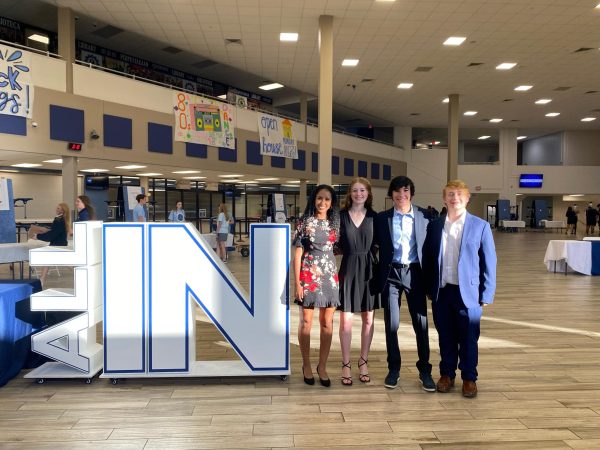 There's no question that joining DECA is extremely beneficial for you as a Kingwood High School Student today. Don't wait!
In this article, we have talked about the many benefits, skills and knowledge that DECA brings to KHS and to you. Kingwood DECA can only be the best if we get participation by passionate students wanting to make a difference and bring a DECA presence to our campus. 
We are often nervous about adding one more thing to our schedule, I get that. But, in life you need to be more than your sport, more than your fine art and more than just a student. Clubs are important and bring out a different side of us when we participate. Colleges today don't want to see that you are one-dimensional. If it's not DECA, get involved in something and pursue your passions and sharpen your skills. 
JOIN DECA NOW: https://docs.google.com/forms/d/1hw236rAFBN8ZpeymdubytI0yZIMb96Gq7fSTZjKC5GU/edit

Follow us on Instagram @kingwoodhs_deca and Remind @decakhs23

FIRST MEETING – Tuesday, AUGUST 22nd @LGI 4210 – A BLOCK
BE ALLIN at KHS and bring your best to Kingwood High School this 2023-2024 school year!
#KingwoodAllIn