Undefeated District Champs Ready For Another Title
Last fall, KHS tennis ended the season with a dominant undefeated district championship title, pushing them into the post-season playoffs. Unfortunately, their tournament fell short losing to Clear Falls (who they beat last year) in the area championship 10-6. Now, in the beginning of spring, we are amidst the spring season of tennis with our players focused, determined, and hooked for more action and medals, to overcome their fall season and to have yet another, blue district champion.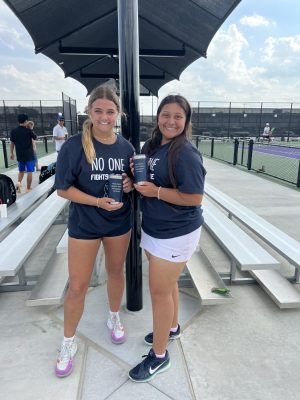 As of this week, the mustang team have played in nine tournaments with a successful finish in eight, proving Kingwood as a prevailing force in the Houston region. Our most dominant performance was held at Deer Park high school in the prestigious "Franklin-Kramer" spring tournament on February 3rd. KHS finished with 8 golds, 7 silvers, and 3 bronzes, with every member on the team medalling. To list all of the other achievements by the team would be nearly impossible, but a noticeable victory was made by Aubry Hagen and Lauren Beach in girls doubles on March 9th. This tournament holds a special place in our hearts to honor the passing of our coach, Gregory Dwyer two years ago.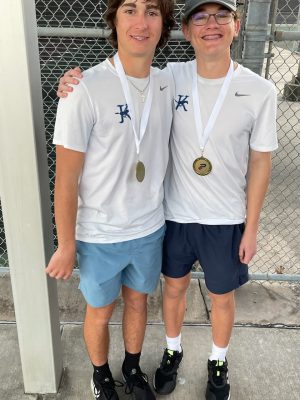 This team, like many others, have faced struggles and poor performances, but have overcome hurdles to reach and fulfill their goals. This week, our mustangs will play in one of the hardest and famed highschool tournaments in Texas: The Kemah Invitational. This tournament contains teams like Westwood HS from Austin (ranked first in state), Houston Memorial (second in state), SouthLake Caroll from Dallas (top five in state), and many more teams with a very loaded lineup. With this being said, I have no doubt that our KHS team will continue to perform at the highest level and excel to meet and overachieve our standards.
The season is soon coming to a close in the next four weeks and our mustangs are looking better than ever. After the Kemah Invitational, we enter the postseason, where the most important tournament comes into play: districts. It will be held at Humble High School, but no matter the location, our blue will shine through.