Undefeated & Undisputed at Nitto
Over the course of ten months, the top 100 highest ranked tennis players in the world competed to qualify for one of the most prestigious tennis tournaments to date.
What is the Nitto ATP Finals?
The Nitto ATP final is held in the first couple weeks of November and is the last professional ATP tournament of the year/season. The site of the event changes every 5-10 years with the 2022 location being in Turin, Italy. Throughout the course of 4 grand slams, 9 Masters 1000's, and many more minor tournaments, only the top 8 ranked men's players qualify for a chance at the current, fifth most prestigious tennis tournament. The tournament is run similarly to the World Cup, as there are two group stages with 4 players in each group. The competitors play against each other, and the two with the most wins from each group advance to the playoffs (semifinals and then finals).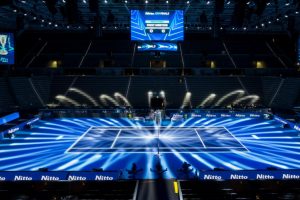 The Two Groups
The "Red Group" consisted of, 21 time grand slam champion, Novak Djokovic, Andrey Rublev, Stefanos Tsitsipas, and Daniil Medvedev, last year's runner up.
The "Green Group" consisted of Casper Ruud, Taylor Fritz, Felix Auger-Aliassime, and Rafael Nadal, 22 time grand slam champion. 
*The two group's colors are from the Italian Flag.
*Current world number one Carlos Alcaraz, and last year's champion, Alexander Zverev were unable to play/qualify due to injury.
What Happened? 
As a massive surprise, a fan favorite, Rafael Nadal experienced two, quick, tough losses to younger, less experienced players rendering him unable to leave the group stage. And in the other group, Daniil Medvedev could not pick up a single victory, also not qualifying to move on. The two that did progress from each stage were, Casper Ruud and Novak Djokovic, placing first, and Taylor Fritz and Andrey Rublev, placing Second. Casper Ruud then played and defeated Andrey Rublev 6-2, 6-4, and Novak Djokovic beat Taylor Fritz in a heated nail biter with both sets going into a tiebreaker.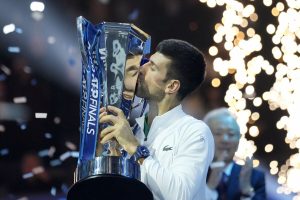 The Champion 
On Sunday, November 20th, Novak Djokovic played Casper Ruud for the fourth time in their careers, and for the fourth time Djokovic defeated Ruud (7-5, 6-3) crowning him the champion. This is his sixth Nitto ATP finals win, tying him with Roger Federer for most Nitto ATP titles. Additionally, Novak Djokovic went undefeated, becoming only one of four men to ever win a Nitto title without a loss, and with his pure dominance he achieved the largest payout in tennis history with a check of 4.74 million dollars. To put this in perspective, this is almost double what the Wimbledon Champion gets (2.5 million dollars) with this title being the most prestigious tournament in all of tennis. With all of these records broken, and Djokovic portraying nothing else but brilliance, is it time to finally call him the G.O.A.T?