Live Music in Houston
There is always something going on in Houston, not only in Kingwood but downtown and in the Woodlands too! Some of the trendy spots right now are 713 Music Hall, House of Blues, and White Oak Music Hall. Of course, bigger acts will do tours at places like the Toyota Center or NRG Stadium. Lots of students at Kingwood High School like to go to concerts in their spare time. Given the onset of COVID-19, bands were made to cancel their tours in 2020. Many bands have since come out with new releases, or are rescheduling those lost tour dates. Check out what live music has been going on in Houston lately, and what concerts students at KHS have been going to!
The Smashing Pumpkins with Poppy and Jane's Addiction  – October 3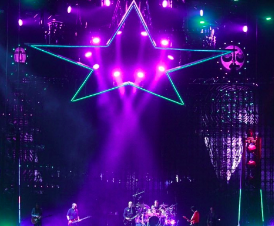 The Smashing Pumpkins kicked off the second night of their 2022 North American Tour in Houston on Monday, October 3. They are touring with Poppy and Jane's Addiction. Poppy opened first, and then Jane's Addiction. The Smashing Pumpkins opened up their set with a new song, "Empires", which will be featured on their upcoming album, "Atum", set to be released in April 2023. They played a mix of more recent and older songs, of which the older songs are their most popular ones. The band is touring with original members Billy Corgan, James Iha, and Jimmy Chamberlain, with the addition of Katie Cole, Jack Bates, and Jeff Schroeder. The concert was a spectacular arrangement of music, lights, visuals, and performance.
MUNA with Meet Me at The Altar  – October 10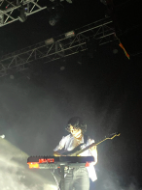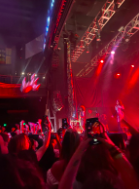 MUNA is a band that maybe not everyone has heard of. However, many people have listened to Phoebe Bridgers. Their most famous song is 'Silk Chiffon' featuring Phoebe Bridgers. Unfortunately, Bridgers was not at their Houston concert on October 10, but that didn't make the show any less spectacular. MUNA's opening act was a band called Meet Me at The Altar, which many also may not have heard of, but after MUNA's tour, one can suspect that the band will be collecting more and more listeners. MUNA opened with a fan favorite from their most recent album, "MUNA", which was released in June, called "What I Want". The song is an empowering and energetic tune that encourages young people to get out and do what they want with life. The song ultimately sums up the album, because the album is all about healing and becoming who you want to be. The setlist was executed perfectly, and the band definitely knows how to get a crowd excited. The band closed with their popular song, 'Silk Chiffon', with band member Naomi McPherson doing Phoebe's vocal part. The band was interactive with fans and made sure to keep everyone invested in the show. In the end, it was a show that will be hard to forget.
Stevie Nicks with Vanessa Carlton – November 2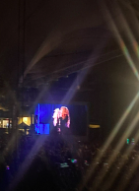 Stevie Nicks has been big in the music scene since she joined the band, Fleetwood Mac, in 1975. The band started to see huge success, and since then, Nicks has been a major influence in the music world. She set off on a solo career while in Fleetwood Mac, and is still embarking on her solo journey. Her music has come back in recent years, especially with younger generations. She has become a style icon and a music inspiration for many individuals and is admired from generation to generation. Her crowd is full of mothers, fathers, daughters, sons, and friends. Nicks had planned to perform at the Cynthia Woods Mitchell Pavillion in the Woodlands, Texas on October 9th, but had to postpone because she came down with a respiratory issue. 
Her rescheduled concert in The Woodlands was opened by Vanessa Carlton, singer of 'A Thousand Miles'. Carlton's performance was riveting and entertaining. The main act, Stevie Nicks, played a 16-track set. This included hits like Rhiannon and Dreams, as well as a cover of Tom Petty's 'Free-Falling' and her recently released cover of 'For What Its Worth'. Nicks even brought out her dog, Lily, who she got in Houston, onto the stage. Even Nicks said that it was a concert to remember. Nicks said, "I believe that music saves the world" and to "just turn the music on, and don't forget to dance", and everything will be alright. KHS junior, Victoria Estrada, who attended the concert, said that "​​It was my first concert ever and it was an amazing experience. I loved seeing Stevie perform live and watching everyone get excited for her songs. It was a good first concert and I hope to go to some more in the future!" The concert was definitely a once-in-a-lifetime experience. Nicks is still going strong at 74, and undoubtedly won't be stopping anytime soon.
Beabadoobee – November 6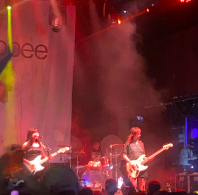 Beabadoobee came to Houston last November and came again, in the same month of 2022, to the same venue, White Oak Music Hall. Beabadoobee released an album called "Fake It Flowers" in October 2020, but COVID-19 restrictions didn't allow her to tour until November 2021. For many fans, this was the first concert they attended since the pandemic. Since then, Bea released her newest album, Beatopia, in July 2022, which was adored by fans and critics. 
Bea played another concert at White Oak Music Hall on November 6, for the album Beatopia. Bea opened with a song off her new record, "10:36", and went on to play old favorites, as well as songs from her new album. After her main set, Bea came back for an encore, and came back to play the popular song "Coffee", a song from her new album, "Ripples", and then closed the night with "Cologne", from her EP "Our Extended Play". This EP was written and produced with The 1975's Matty Healy and George Daniel. Bea is expected to open for Taylor Swift's recently announced Eras Tour this year. Beabadoobee is always sure to greet fans after the show and is always humble and sweet to her fans. Bea and her band put on an incredible show, and she will for sure see greater success in the coming months. 
The 1975 – November 16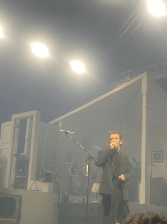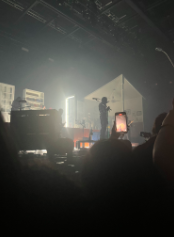 Like many other bands during the pandemic, The 1975 had to postpone their 2020 tour, and fans were devastated. The band has since released two albums, "Notes on A Conditional Form", released during the pandemic, and "Being Funny In a Foreign Language", their most recent release. This tour combined a lot of fan favorites and was a theatrical performance in itself. The 1975's stage was shaped like a house and they entered with the curtain dropping to reveal the impressive set. The band came on with the opening song from their new album, titled 'The 1975'. The band has a "The 1975" track on every album, which showcases the overall theme of their album and the social or political situation of the time the album is released. The setlist compiled some of the band's most popular tracks, including 'Somebody Else', 'Love it If We Made It', 'A Change Of Heart', 'The Sound', and more. The band closed with 'Give Yourself a Try', from their 2020 album Notes on a Conditional Form. The band was interactive with their audience and asked what songs were their favorites to play. The band's saxophonist was playing with them and played the iconic saxophone solos in songs such as 'If You're Too Shy (Let Me Know)'. Overall, the show held at 713 Music Hall was an immersive experience that many fans have been waiting for for years, and it was totally worth it.
These concerts are not the only events happening in Houston, and there seems to always be something to be excited about! Live music is an amazing way to connect with others and live in the moment, especially after being in isolation from events like these for so long.