Les Misérables: Kingwood Theatre takes on the beloved timeless musical
Redemption, Righteousness, Love, Dignity, and Faith are all themes that transcend time in Victor Hugo's classic novel Les Misérables. The beloved story has been adapted into a Broadway sung-through musical and is known to be one of the most iconic and longest-running musicals. On November 3-7th, Kingwood Theatre took on this timeless classic musical with unprecedented 130 cast members and 60 technicians, and they were ready to have all of us in awe with their phenomenal performance.
The preparation for the show started in August with auditions and casting, and immediately following were after school rehearsals nearly everyday leading up to the performances. Large portion of the music rehearsals took place in September, alongside blocking scenes which were done in the cafeteria to accommodate for the vast number of cast members. October started many working, cleaning, and tech rehearsals which took place both after school and on Saturdays. Cast members and crew have devoted a significant amount of time outside of class into the show on top of managing school work and other extracurriculars.
Mrs.Faulk, the Kingwood Theatre Director, says that this is her dream show with a dream cast. The show stars many incredibly talented cast members which were entirely students. The lead roles were Ennis Watt as Jean Valjean, Ty Bucholz as Javert, Regan Etter as Fantine, Lucius Watt as Enjolras, Loren Hicks as Cosette, Aidan Duez as Marius, Anna Kovacik as Eponine, Sydney Raney as Madame Thenardier, and Joseph Pletting as Monsieur Thenardier.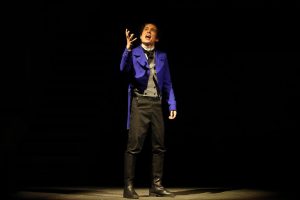 The musical also casted elementary and middle school students in Kingwood as Lucas Gordon from Riverwood Middle as Gavroche and Eliza McCrary from Foster Elementary as Little Cosette. If you have seen the outstanding Anastasia production from last year, you might recognize Ennis (Jean Valjean) as Gleb Vaganov and Aidan (Marius) as Dmitri.
Kingwood Theatre's technical team continues to amaze us with their phenomenal set and designs, lights, costumes, and sound. As a Stage Manager of such a large-scale show, Senior Charlotte Russell had a multitude of responsibilities including communicating with directors, technicians, and cast members regularly, making announcements and taking attendances, taking notes from rehearsals, gathering reports to send to the crew, and being a leader to everyone around. One of the most important jobs of a stage manager during the show is calling cues for lighting, sound, revolve, and projection changes on stage. She expressed her gratitude by saying that "Working on a production of this size really makes you grateful for the people we have in our department and how hardworking all them are. Everyday walking into rehearsal or a performance I knew I would have the best time because I was around my company. While there was a lot of work to be put in his production, I couldn't have it wanted any other way".
Kingwood Theatre was nominated for Tommy Tune's Outstanding Lighting Design in the past year's fall musical Anastasia, and they have exceeded our expectations once again. Intelligent moving lights were used which elevated the show greatly. Senior Erin Yarbrough was the Lighting Designer as well as the Board Operator in which she was charge of the special light effects.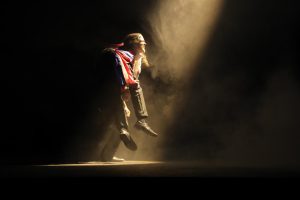 She expressed that it presented a huge learning curve with many troubleshooting, but it was all worth it in the end. "I wanted the actors to remain the center of attention, but manipulate the color and intensity of the lights to convey the passion that is at the core of the show. And with moving lights, I was able to create moments that did just that."  She also expressed that "her favorite part of lightning is getting to watch my best friends perform, and I am so thankful to have been able to do that with such a beast of a show".
In this show, a motorized revolving stage was built on the set which was also a first for Kingwood. Installation of the stage took around a month in which they raised the auditorium stage by 10 inches and built a control panel to operate the revolving stage.
As the Revolving Stage Operator, Sophomore Ryan Hulse had the responsibility to control the revolve during the show as well as making sure it was working properly. He expressed that "The revolve brought more life into the show and enhances the experience and engagement of the story". This allowed for so many opportunities for scenes such as the barricade turning, the display of an interior and exterior of the gate, Jean Valjean carrying Marius out of the sewer, and more.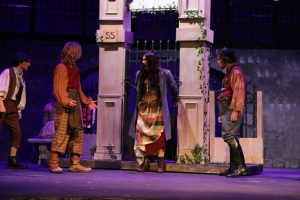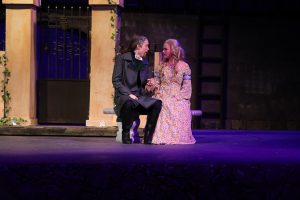 He also expressed some troubles they encountered in the process. "Another problem was where I would be backstage for the show. It was hard to find a spot for me because the control panel was connected to both motors and a power outlet, so I was limited to where I could go. Eventually we found a spot that worked, under the stairs of the set. While we were still looking for spots, I had joked that the stairs would be my last resort, and well, I had to use them. I had an eye hole in the wall and it was my only way of seeing the stage".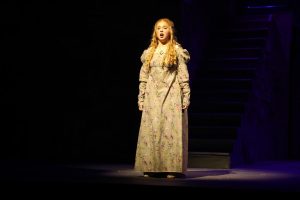 Junior Regan Etter played the role of Fantine, a tragic but hardworking tritagonist in the story. When asked about what she enjoyed about playing Fantine, she expressed it saying "What I think makes Fantine such an iconic and interesting character is her limited stage time. We see a very small glimpse of her life, and almost all of it is filled with pure turmoil. Yet through it all, she expresses her want to see the good in the world, and at times is literally on her knees begging for others to show it to her. This contradiction is so so interesting to play with as an actor: it's so human, which I think is the magic of Les Mis. For the first thirty minutes of the show, I didn't leave the stage for more than five seconds at a time, and it's difficult to describe how cool it is as an actor to be in a character's headspace for that long- you genuinely become them. As someone who loves acting almost more than they love breathing, it was an absolutely incredible opportunity to explore every possible beat and breath within a scene, and I was very thankful to receive it".
For Senior Jackie Trinh-Juarez , this was her last musical at Kingwood Theatre. She expressed that "The line that we based the entire show on speaks volumes to my heart. "To love another person is to see the face of God." While this may be my last musical at Kingwood it will forever remain one of my favorites as a performer. The one thing that keeps us on the stage is storytelling. That's our whole job! To be able to tell the story of the student revolution right in this day is amazing. You can see the how it directly mirrors our current life".
Camee Faulk has expressed that she chose a line to base the show off of to focus on different types of love and relationship found in the story. She expressed that "The idea that the love is the closest we can get to the divine, whatever that may look like, has really impacted me and made me look at both the show and all the amazing people and my life in a new light".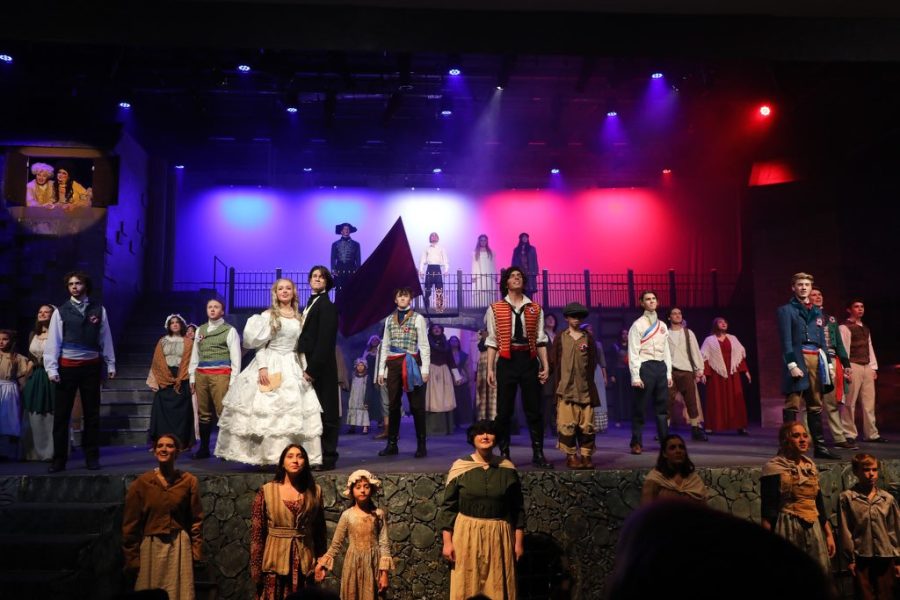 Finale Number
Photo Credit: Chloe Sanchez
With such phenomenon performance this fall, we cannot wait to be stunned once again by Kingwood Theatre's performance of Pride and Prejudice (Adapted by Kate Hamil) in January. Performances will take place at KHS on January 19-21st at 7pm, including a matinee show on the 21st. Once the tickets are released, they will be on sale through kingwoodtheatre.com. Make sure to stay on the loop through their instagram account @kingwood.theatre!