"LEAVE NO DOUBT"
September 20, 2022
With the kickoff of a new football season, everyone is excited to go and support the Kingwood High School varsity football program. Our Mustangs are off to a hot start, beginning the season 3-0. The team is staying positive and working hard, pushing to make a run at the playoffs this season. 
Kingwood plays in one of the toughest Districts in the state of Texas, District 21-6A, which includes matchups with state champion, North Shore, along with, Atascocita, Summer Creek, C.E.King, and Beaumont West Brook, with all of them making it to Round 3 of the playoffs last season. Additionally, our Mustangs will have to play Humble and new to 6A, Beaumont United. District begins this week, with a game against archrival Atascocita High School. This Mustang team is poised and ready to take on that challenge. 
I took some time to interview quarterback, Trey Reese, and asked him to reflect on the season so far and share his thoughts on the Mustangs in the coming weeks ahead.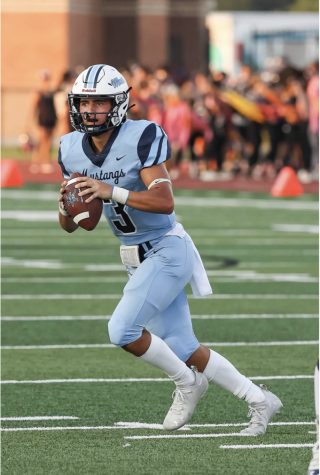 Trey, we know that you played QB last year, but what is different about being the QB and leading your team this year?
"The main difference between last year and this year was the mentality. Last year as a Junior, it was difficult to lead our team into believing that every time we stepped on the field, that we had a chance to win. However, now being a captain of the team, I have the opportunity to instill belief and confidence to where we know that we can win any game we play."
What is your reason for playing football? I am sure you could be playing other sports. 
"My Why" specifically for this season is different then previous seasons. It has finally struck me that this is going to be the last season I will ever get to play football with my teammates, and that realization has caused me to make sure that I cherish every moment that we are going to have this season. My fellow team captains and I decided to create the team motto, "Leave no Doubt" for this season. "Leave no doubt" means that every time we step off the field after a game, we are going to have no doubt in our minds that we couldn't have put any more effort into what we have worked so hard for. Personally, "leaving no doubt" is my Why."
What is the focus of the team offensively and defensively as you move on towards your season?
"On the offensive side of the ball, we are specifically looking to eliminate penalties, and to finish drives so we can put our team in the best position to win games. Defensively, we are looking to create more turnovers to help put the offense in the best position to score. "
Coming off the homecoming game where you had a packed house from the community and a packed student section, how did you and the team feel having that support in the stands?
"It was truly unlike anything we have ever seen at Kingwood. The energy and support that the student section brought to the game helped our defense turn around the momentum

Photo Credit: Suzie Peterson

of the entire game. It was an amazing feeling to finally feel the full support of our school, and our community."
Ultimately you won the last game against the Heights but the score was close during some parts of the game. What were some things you could have done differently as a team in that last game? 
"The game was close at times because we did not start as fast as we did against Clear Creek or Katy Jordan. Whenever our team is ready to play the second the first kickoff happens, we usually are more successful in those games. However, the difference in the game against the Heights was that at around halftime the student section had become so electric that their energy had spread to us and ultimately made us play better as a team."
How is the team getting ready on its bye week  to prepare for one of our toughest opponents of the season with Atascocita  along with a tough series of district games to follow? 
"While we had a bye week, we remained focused throughout practice because we know what is ahead of us. We know that Atascosita is a very good team, however we know that we are a different Kingwood team than the previous years."
How do you encourage and motivate your team to stay in the game and not worry about rankings and our tough district matchups?
"We know that we play in one of the most challenging districts in the entire nation. As a team, we love the challenge and accept it because we know it only makes us better as a team. Our mentality has changed, and we will bring that mentality into districts with us as well."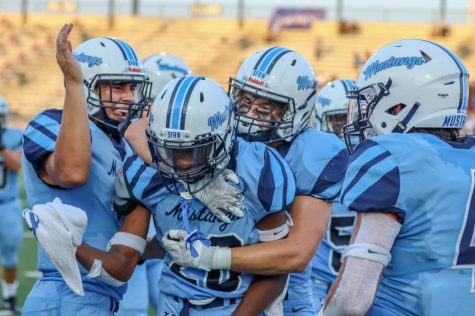 Does Kingwood have a chance to make a playoff run coming off a 3-0 season at the start and how many more games would we have to win to be considered? 
"We understand the teams we need to defeat but ultimately to make the playoffs, we would need to win 3 or 4 more games. We have a very good chance at the playoffs this year, and it has been our goal since last November."
The team has a great leader in Trey Reese as their QB who shares a positive outlook for the Mustangs this season. We look forward to him leading this senior-heavy team on and off the field.
As a freshman, I am new to watching Kingwood Mustang Football, and it is great to see a solid team that has been capable of making plays offensively, while holding their own defensively. The Mustangs will need to play all four quarters every game this season, and not give up. Running hard, completing passes and getting into position where they can finish drives with a score whether it's by kicking a field goal or getting that touchdown, will make the difference to win. The Mustangs are not lacking team speed needed to get the ball down the field, but they must focus on the small details of avoiding penalties and executing the plays each down.
I love the spirit that I saw in the stands with many students coming out to cheer for the team and getting involved in the outcome of the game. I hope this continues as our team needs our support in the next few home games.