Varsity Theatre gets their Spring Musical 'Whipped into Shape'
This spring, Kingwood High School's Varsity Theatre has chosen Legally Blonde The Musical for their second musical of the year. Kingwood has never put on two musicals in one school year which can only attest to the devotion and talent of the students and directors in the 2021-2022 Kingwood Theatre program. After the spectacular Anastasia production last fall and a return to full-scale performances after the COVID pandemic, we cannot wait to see Kingwood's take on Legally Blonde.
Mrs. Faulk and Mrs. Baugh, the Kingwood Theatre directors, have selected an incredibly talented cast featuring Kennedy Olsen, a senior at Kingwood, as Elle Woods. Olsen received a Tommy Tunes nomination for 'Outstanding Performance in a Lead Role' for her role in the fall musical, Anastasia. Will Soto and Zarel Tchani, both seniors, will be playing Warner Huntington III and Emmett Forrest, respectively. The cast list also features seniors Katey Wetmore as Paulette, Aurora Spear as Vivienne, Ben Erb as Calahan, and Tobi Ajelabi as Margot, along with countless other exceptional students whose enthusiasm for the show may be the only thing that matches their level of talent. Ajelabi was also nominated for an 'Outstanding Performance in a Lead Role' Tommy Tune for her rendition of The Dowager Empress in Anastasia. Junior Jacqueline Trihn-Juarez who will be portraying Brooke Wyndham describes Legally Blonde as "the most physically demanding show I've ever been in, but also the most fulfilling. Playing Brooke Wyndham has quite literally whipped me into shape. I've been preparing for this musical for months and am so excited to show it off". We cannot wait to see Brooke Wyndham and her fellow Delta Nus come to life on stage, along with the rest of varsity's actors and actresses.
Along with spectacular casts, Kingwood has always far exceeded expectations in the technical, costume, and stage design areas. After easily transporting us to 1920s Russia last fall, one can only assume the audience will get a blast from the past in the 2000s of Legally Blonde. Kingwood's Head Stage Manager, Hailey Stokes, junior, expresses her excitement saying, "being stage manager is hard work, but it's also really amazing getting to watch this show come to life. I'm so honored to be a part of such a fantastic show and I can't wait for us to show everyone how talented our department is". The costume team has also consistently impressed all of Kingwood. According to head costumer sophomore Isabella Burkhardt, "finding early 2000s pieces was definitely easier than other shows, especially since the style is currently in. What was difficult was making sure they fit the scheme and vibe of the show, like how we can't send someone in an all black outfit on stage when they are a Delta Nu, but overall the show was super fun to costume". With such a talented team from tech to acting to costuming and everything in between, Legally Blonde is sure to impress all audiences.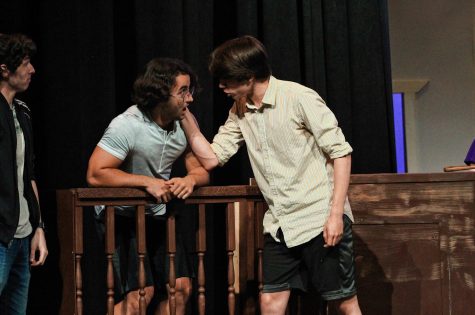 For those who missed out on Anastasia last fall, the gorgeous set designs and stunning costuming combined with a group of students whose musical theatre talent is astounding in every capacity resulted in a spectacular show both for the common audience and the musical theatre enthusiasts. The musical was nominated for countless Tommy Tunes including but not limited to
'Outstanding Musical', 'Outstanding Ensemble', and 'Outstanding Technical Design'. A full list of Kingwood Theatre's nominations can be found on the 'Theatre Under the Stars' official website or on Instagram @kingwood.theatre. With such a successful fall musical under Head Theatre Director Camee Faulk, we can only expect an equally phenomenal performance this spring.
Legally Blonde The Musical first premiered in 2007 and is based on the 2001 film directed by Robert Luketic and the 2001 novel written by Amanda Brown. With music and lyrics by Laurence O'Keefe and Nell Benjamin and book by Heather Hach, Legally Blonde The Musical saw major success on broadway. Upon first premiering, the production featured broadway stars, Laura Bell Bundy and Christian Borle. The musical's discography includes countless exciting and amusing numbers such as "Whipped into Shape" and "Bend and Snap".
Kingwood has five evening performances at 7:00 p.m. on May 11th, May 12th, May 13th, and May 14th as well as a 3:00 p.m. matinee performance also on May 14th. Tickets are available for sale on the Kingwood Theatre website or at this link. Make sure to brush up on your Legally Blonde references before their performance and don a pink outfit for Little Miss Woods comma Elle as you watch the varsity senior's last performance with Kingwood Theatre. I'm seriously in love with this cast, crew, and musical, and I'm positive you don't want to miss this show because Omigod it's going to be amazing.