The Crisis in Ukraine: What's Going On and How to Help
A Timeline of the Tensions Between Russia and Ukraine
Some may believe that Ukraine is only appearing in the news recently, but Ukraine has a much vaster history than the news and school textbooks may suggest. Ukraine's history in conflicts with Russia is not just recently starting. Between the Soviet Union's occupation of Ukraine, the Russian invasions of Crimea, and fighting in the Donetsk Basin, the two countries have had many confrontations. This graphic from The Economist details the timeline of events, as well as the land claims between Ukraine and Russia from 1938 to 2015.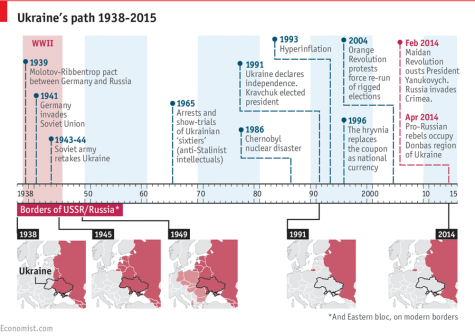 In the years preceding this graphic, Russia fought to gain claims to the eastern region of the Donetsk Basin, which includes Donetsk and Luhansk. In 2015, documents named the Minsk agreements were signed in an effort to stop the fighting. A cease-fire was agreed upon, but the tensions continued. By the end of 2021, there was a build-up of Russian troops near the border. Russia denied allegations that they were planning on invading Ukraine. On February 24, 2022, Russia launched a full-scale attack on Ukraine, bombing civilian facilities and military targets. This was seen as a declaration of war, and Ukraine has been defending itself against Russian troops for almost a month now.
Ukraine and Russia have both closed their airspace off from civilian flights. Airlines have canceled flights, and/or changed their flight paths. The map below from a flight-tracking website, 'Flight Radar 24' shows flights over Europe as of February 26, 2022.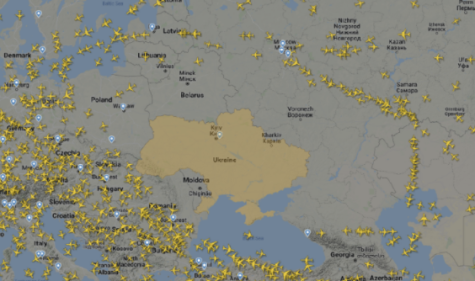 There has been increasing devastation of Ukrainian cities and casualties of Ukrainian people. The Office of the UN High Commissioner for Human Rights reported, "From 4 a.m. on 24 February 2022, when the Russian Federation's armed attack against Ukraine started, to 24:00 midnight on 17 March 2022 (local time)…[there were] 2,149 civilian casualties in the country: 816 killed and 1,333 injured" (OHCHR). This is a result of the Russian destruction of businesses, transportation centers, and civilian areas. There have also been immense military casualties. Ukraine is facing a full-fledged war that is creating casualties left, right, and center.
Humanitarian Efforts
While the tolls of the war are becoming apparent, there are countless humanitarian efforts and charities working to help the people of Ukraine through this hardship. Citizens in nearby countries are offering their homes for Ukrainian refugees to flee to. According to the UN, over 2 million Ukrainians have evacuated to Poland, and "the overall number of refugees who have left Ukraine to neighboring countries from 24 February onwards is estimated at over 3.2 million." (UNHCR). Non-profit organizations have been working hard, collecting donations and food supplies, and providing other forms of help. A US-based organization, NOVA Ukraine is doing not only that but states, "we are also providing limited assistance with locating and reconnecting family members who have been separated from their loved ones. On the local front, our volunteers are standing by to help refugees arriving in the US" (NOVA). These humanitarian efforts hope to help Ukrainian citizens by giving them assistance in all areas during a time of need.
What You Can Do to Help:
There is only so much one can do from thousands of miles away, but there are still ways to help Ukrainians. You can donate to reliable charity organizations, or raise money yourself to donate to charities. Additionally, with social media, it is easy to spread information, but it is also easy to spread misinformation. You can do your part to make sure that what you spread is credible, and keep yourself and others informed on the real issues.
Donate:
The Ukrainian Red Cross: https://donate.redcrossredcrescent.org/ua/donate/~my-donation?_cv=1
UNHCR- The UN Refugee Agency:
https://give.unrefugees.org/220224ukr_emer_d_4983/
UNICEF: https://www.unicefusa.org/war-ukraine?form=FUNKBHMZQDQ
Works Cited
'Ukraine: Civilian Casualty Update'. Office of the UN High Commissioner for Human Rights. 18 Mar. 2022. https://www.ohchr.org/en/press-releases/2022/03/ukraine-civilian-casualty-update-18-march-202.
'Crisis in Ukraine'. The Economist. 4 June 2015. https://www.economist.com/graphic-detail/2015/06/04/crisis-in-ukraine.
'Up to 6,000 Russians may have been killed in Ukraine so far, U.S. official estimates'. CBS News. 10 Mar. 2022. https://www.cbsnews.com/news/ukraine-russia-death-toll-invasion.
'Humanitarian Efforts'. Nova Ukraine. 3 March 2022. https://novaukraine.org/humanitarian-efforts/.
Storel, Marco. 'Photos: Ukraine's Civilian Forces Grow as More Enlist in the Fight Against Russia' NPR. 4 Mar. 2022. https://www.npr.org/sections/pictureshow/2022/02/24/1082795427/photos-show-the-calamity-as-russia-invades-ukraine.