Highlights from Men's Figure Skating in Beijing 2022
Thousands of sports fans across the world have been waiting for this time of the year. Every 4 years, Winter Olympic Games are held in a chosen host city where 15 different sports are played. Within each sport, there are a variety of events that feature different techniques and athletes. 
The oldest game to be contested in the Winter Olympic is figure skating, which was first contested in London 1908. It includes 5 events – Men's Singles, Women's Singles, Pair, Ice Dance and Team Events. For Single's Events, 30 participants in each are chosen to compete after their performance results in the World Championship or a National Championship in their own country. In the Olympics, there are two different programs for Single's events – Short Program and Free Skating. Short Program is the first of two segments in which skaters perform a 2 minute and 40 second program that requires fewer elements to perform, such as jumps, steps and spins. Lastly, the best 24 skaters from the Short Program are able to advance into performing a Free Skate. This longer segment of the event requires a lot more technical elements. After the Free Skate, the scores from both segments are added up to determine the overall winner. 
Beijing 2022 Men's Single Figure Skating took place on February 8th (Short Program) and February 10th (Free Skating) in Capital Indoor Stadium. 
Nathan Chen (USA) received a gold medal after defeating a standing two-time gold medalist Yuzuru Hanyu (Japan).
Despite having errors in both of his programs, Hanyu still took the lead and placed 4th overall. His teammates Yuma Kagiyama (Japan) received silver and was followed by Shoma Uno (Japan) who received bronze. This marks the 4th consecutive Winter Olympics where Japan stood in the championship podium, from Daisuke Takahashi (Bronze) in Vancouver 2010, Hanyu Yuzuru (Gold) in Sochi 2014, and Hanyu Yuzuru (Gold) and Shoma Uno (Silver) in Pyeongchang 2018. 
Highlights 
Nathan Chen's phenomenal and flawless performances undoubtedly got him a gold medal. Despite having a tough Olympic debut in Pyeongchang 2018, he came back strong in Beijing and set the highest short program score in history. In the free program, he was the last skater to perform and closed out the day with an outstanding program to "Rocket Man" by Elton John. After his successful performance, Elton John congratulated Chen on Twitter. 22 year-old Chen is a student at Yale University, majoring in data and statistics science. He took a leave of absence in order to prepare for the Olympics, but plans to return on campus for fall of 2022 and graduate in spring of 2024.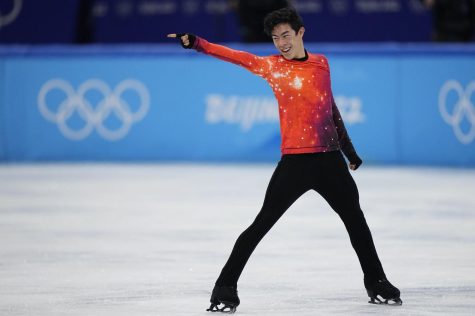 Donovan Carrillo made history by being the first Olympic Skater from Mexico in three decades, and the first to advance to the free program. At 22 years old, he was the highest placed Mexican Skater in The World Championship, qualifying to compete at Beijing. Living in the warm climate of Mexico, Carillo often practiced at a shopping mall skating rink. At a young age, he was often made fun of for his pursuit of figure skating due to the unpopularity of such a winter sport in Mexico. While many kids his age played soccer, he was humiliated for his passion and called a "girl'. But that only made Carillo stronger and work harder with his strong ambition to compete at the Olympics. He performed to "Black Magic Woman" and "Shake It" by Santana in the short program, successfully landing a quadruple toe loop, a triple Axel and a triple Lutz-triple toe loop combination.Carrillo also represented his country by bearing the flag at the opening ceremony.. He hopes to inspire the youth of the country who also go through obstacles pursuing their dream just like he did. Carillo placed 22nd overall.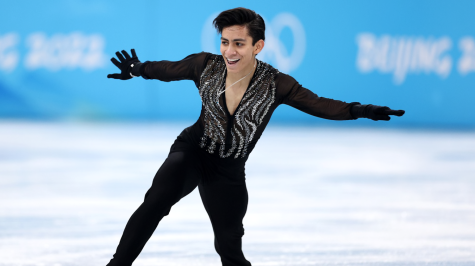 18 year-old Yuma Kagiyama had a successful Olympic debut receiving the silver medal, accomplishing his goal of following in his father's footsteps, Masakazu Kagiyama, a two-time Olympian. Kagiyama dethroned his teammates and role models Uno and Hanyu with his outstanding programs. But for 18 year-old Kagiyama, this is just the beginning. He is the future of Japanese figure skating, and holds a promising future.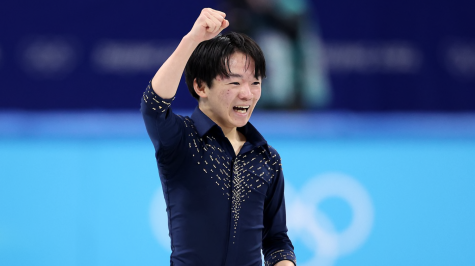 Yuzuru Hanyu, a two-time gold medalist and the face of figure skating, was Nathan's chief rival in this competition. After his shocking errors in the short program placing 8th, the chance of him receiving a medal was unlikely. He attempted a quad axel, a jump that has never been performed in a competition before, but failed. After placing 3rd in the free program, Hanyu finished in 4th overall. Throughout his career, breaking numerous records in skating history, Hanyu inspired, impressed, and gave hopes to many in Japan and around the world. He has been the youngest recipient of the Prime Minister's People's Honor Award in Japan, which he received in 2018 after the Pyeongchang Olympics. Well known for his mannerism on and off the rink along with respect and empathy he has for his teammates, he has shown that competitors do not need to have a bad rivalry in order to be competitive. He has truly changed the World of Skating.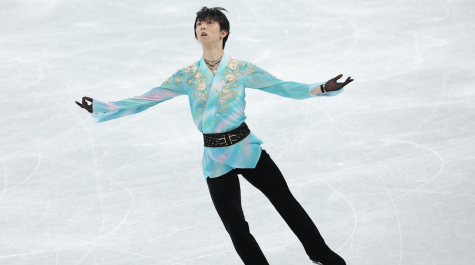 After all the skating events have finished competing, the Exhibition Gala took place on February 19th which features top skaters from each event to perform non-competitively. 
Now we look forward to the Milano Cortina Olympics in 2026.
Bantock, Jack, and Coy Wire. "Nathan Chen: Balancing Act of Yale Stude
nt and Olympic Figure Skating Favorite." CNN, Cable News Network, 4 Feb. 2022, www.cnn.com/2022/02/04/sport/nathan-chen-beijing-olympics-yale-spt-intl/in dex.html. 
Farris, Jo Ann Schneider. "How Does a Figure Skater Qualify for the Olympics?" LiveAbout, LiveAbout, 28 Jan. 2019, www.liveabout.com/qualifying-for-figure-skating-winter-olympics-1282790. 
Getty Images, "Hanyu Yuzuru missed out on history, but remains undimmed in eyes of fans" Olympics, 18 February 2022 olympics.com/en/news/hanyu-yuzuru-missed-history-remains-fan-favourite-beijing-2022
Getty Images, "Donovan Carrillo: The whirlwind continues. Diving with Rommel Pacheco? Why not" Olympics, 12 February 2022 olympics.com/en/news/donovan-carrillo-the-whirlwind-continues-diving-with-rommel-pacheco-why-not
Getty Images, "Kagiyama Yuma flashes gold-medal credentials" Olympics, 8 February 2022 olympics.com/en/news/kagiyama-yuma-beijing-short-olympics
"Ice Skating Disciplines." U.S. Figure Skating, www.usfigureskating.org/skate/ice-skating-disciplines. 
Kano, Shintaro. "Kagiyama Yuma's Silver Lining Playbook." Olympics.com, International Olympic Committee, 10 Feb. 2022, olympics.com/en/news/kagiyama-yuma-uno-shoma-beijing-free. 
Macur, Juliet. "Yuzuru Hanyu, Nathan Chen's Rival, Appears to Fall Short of a Comeback." The New York Times, The New York Times, 10 Feb. 2022, www.nytimes.com/2022/02/09/sports/olympics/yuzuru-hanyu-figure-skating.html. 
Phillip, David. "Nathan Chen wins figure skating gold at 2022 Beijing Olympics" Deseret News, 09 February 2022, www.deseret.com/2022/2/9/22926540/nathan-chen-wins-figure-skating-gold-at-2022-beijing-olympics-free-skate
Wake, Heather. "Mexican Figure Skater Donovan Carrillo Has Already Made Olympic History Just by Competing." Upworthy, Upworthy, 11 Feb. 2022, www.upworthy.com/donovan-carrillo-mexico-figure-skater.