2020 Uncertainty Didn't Disappoint This Year with College Playoff Picks…
December 20, 2020
After a very different and shortened season of college football, I'm sure many people are frustrated with how things have played out. The College Football Playoff Committee decided to rank Alabama at one, Clemson at two, Ohio State at three, and Notre Dame at four. Alabama will defeat an incredibly easy opponent in Notre Dame before beating Clemson in the Championship game.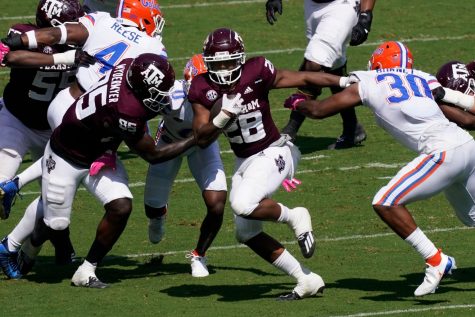 Texas A&M, which had a more difficult schedule than Notre Dame, was snubbed from the playoff. Notre Dame's biggest win came against a Clemson team playing without starting quarterback Trevor Lawrence. Ironically, when they rematched against Clemson (which had Trevor Lawrence) in the ACC title game, they were completely obliterated. The overrated Notre Dame team remains ahead of an A&M team who lost to the consensus number 1 team in the country, but beat a top ten team in Florida. When Jimbo Fisher was asked to reflect on his team and the playoffs he came back to the Media with a solid response before they took on the Tennessee Volunteers and played a solid game.
"If there are questions that are pointed at that time when after the season is over if we're in position to be able to do that, we'll make our own comments and do the things we do. Listen the folks on that committee, they know what they're doing, how they're doing it. All the lobbying becomes good social media to me but I don't know how much it really works when you get right down to it. Those people know what they're doing, how they're going to do it, how they're going to pick it. We have to take care of what we play with on the field and give them a good argument. If we need an argument, we need an argument by how we play, not by what we say." – Jimbo Fisher
Not sure what Coach Fisher's response will be today with the announcement of the Aggies getting the consolation prize of the Orange Bowl. Coach Fisher and his team will be given the chance to prove that they can play at this highest level by playing a solid and notable game against Mack Brown and the North Carolina Tar Heels. Hoping that Texas A&M plays with a large margin making the case for a new look at how and what playoffs should look like for the many strong teams below them in rank this year and the years to come. 
Notre Dame (10-1) will go on in history to be the first team to lose a conference title and still make the playoff pick from the selection committee. It won't really matter anyway because they have no real chance against Bama. We'll see if Ian Book will be able to pass for over 150 yards and a touchdown, but I personally think he'll gift Bama three picks.
After this odd year many questions have arisen. Why not see who the best team truly is by expanding the playoff to 8 or 16 teams? Should the NCAA get rid of the College Football Playoff and bring back BCS? You have many great athletes and teams in the top 10 matching up and who knows what upsets could happen. So there you have it, the Fighting Irish and Crimson Tide will meet in 2021, January 1st at AT&T Stadium in Arlington, Texas. The Tigers and Buckeyes will play each other again the same day at the Sugar Bowl in New Orleans (all of this barring any COVID-19 usual 2020 delays that have plagued the league this year).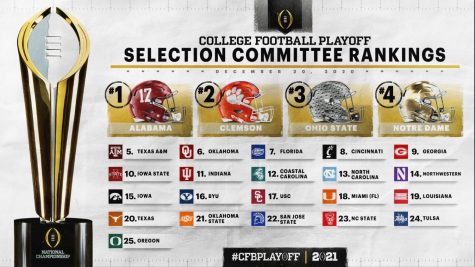 You might find this next video from the SEC Shorts amusing.