Kingwood Football Closes Out 2020 Season with Back-to-Back Victories
After a tough series of games, Kingwood's varsity football team ended the season with two strong victories against Humble and Summer Creek. In the game against Humble, Kingwood closed out the first half losing 7-0 due to a blocked punt in their own territory. After some halftime adjustments, Kingwood came out of the locker room fired up, and proceeded to put up
17 unanswered points. Running back Nick Bernell put up an impressive performance with 2 touchdowns, making the score 14-7 Kingwood, and Kayden Wooster sealed the game with a field goal in the fourth quarter to make the score 17-7. The win brought a surge of confidence over the team, which carried into the following week's match up with Summer Creek. Ty
Boatright, wide receiver for the Mustangs, recalls the feeling of excitement and pride that he felt for his team following Kingwood's victory over Humble. "I am proud of my teammates, we all work to see a win and when we get it it's a feeling unlike anything else this world can give you."
However, the team had yet another challenge to face in their game against Summer Creek. Kingwood started the game off strong defensively, leading to an early sack fumble recovery as well as an interception by junior Cannen Borum. Nick Bernell's touchdown put Kingwood up 7-0 at the half, and the Mustangs held onto a narrow lead throughout the game with subsequent
touchdowns by Nick Bernell and Kasey Duplechin. The final whistle put Kingwood up 26-22 against Summer Creek, resulting in yet another Mustang victory.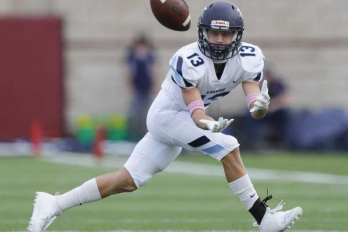 Ending the season with a win meant a lot to the seniors, who were able to end their high school football careers on a high note with their teammates. However, the entire team felt the significance of these last two victories, which showcased both their growth as a team as well as their goals for the following year. According to junior and offensive lineman Cameron Bjornstad, the games against Humble and SummerCreek brought a "new light" to the team, as well as an excitement for their performance next year.