The Lady Mustangs Cross Country Does It Again!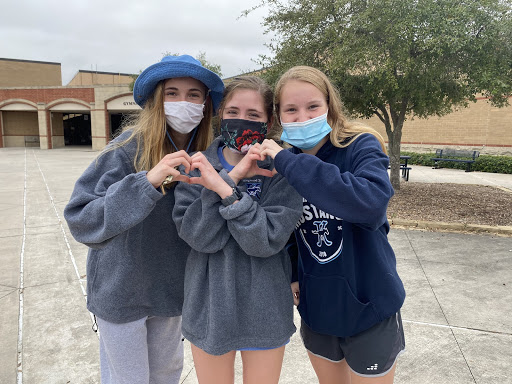 Last Tuesday on November 24th the Lady Mustangs Cross Country team went to Round Rock, Texas, and competed at the state meet. After a long and mentally challenging season through Covid-19, the girls were ready to finish off their season in the last meet of the year. There were a few bumps in the road because of injuries and last-minute surprises, but despite this, the team of Carson Parker (11), Carly Ahrens (10), Helena Karlstrom (12), Julia Shimel (9), Jenna Carter (10), Olivia Allen (10), and Skye Hoffman (10), fought through the heat of the afternoon and finished with 6th place. Three girls finished in the top 50 and runners Helena Karlstrom and Julia Shimel earned new PRs of 19:14 and 19:30. The runners were motivated by their team and supported by alternates Anastasia Small (10), Lauren Johansen (11), and Rebecca Rhodes (10) who ran in the top ten all year.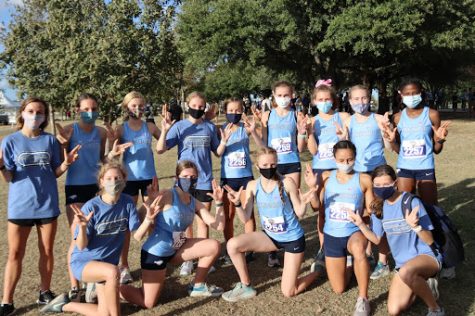 The team has faced many obstacles and put up with adversity along the way like a canceled track season, not being able to practice together, and keeping motivation through such a long season but they say that it makes them stronger and more dedicated as a team. Being in such an intense sport that relies on breathing, physical health, and sweat, the Lady Mustangs have made sure to keep up with mask guidelines and limited social gatherings, however, this does mean sacrificing or modifying some traditions. Team dinners were moved outside to public parks and the beloved circle-up was mask-mandatory and touch-free, things like freshman-senior breakfasts, pool parties, and the ice cream social were canceled. Because of their hard work the team has not faced any outbreaks and was able to finish out the season at state.
As they finish out their year, the team is determined to go back again. Full of mostly underclassmen, the team will not lose many runners next year. Jenna Carter, a sophomore, says "this team is unlike any other we all have a desire to put in the work because of our admiration of good results". The girls' cross country team is up before the sun every day and averages over 100 miles per month, so it takes a lot of energy to keep motivation. Skye Hoffman, a much-improved varsity runner says, "we are a very strong team because we train hard and have each other to help keep us motivated". The stampede is excited for what is to come and hope to keep getting better. Go running mustangs!