The Presidential Election Pulled a 2020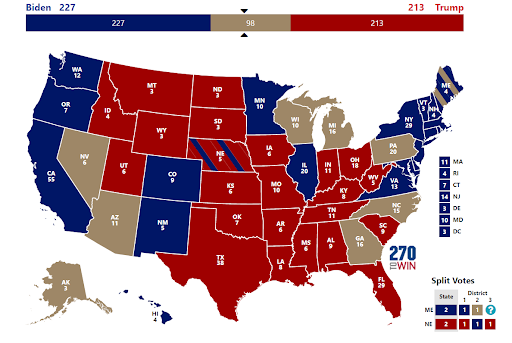 I think we can all agree that 2020 has been a year like none other. The Presidential election followed suit. Many key swing states including the 3 swing Great Lakes States (Michigan, Wisconsin, and Pennsylvania) are still up for grabs. At the time of writing this, Biden holds a 227-213 projected Electoral College lead. Both candidates have much to be optimistic about and have had major successes. In this piece, I'll break down each candidate's respective victories and their paths to 270 Electoral Votes.
President Trump's Victories:
To start, President Trump should be heralded as a magician. He has once again tremendously outperformed the polls. Going into Election Day, the consensus showed that he was trailing in Florida and North Carolina while barely leading in Ohio and Iowa. He ended up winning Ohio by 8%, Florida (a traditional battleground) by nearly 400,000 votes, and Ohio by 8%. He may have a slim path to reelection, but he has yet to lose a state from his 2016 map. Despite being the underdog, no one should count him out. His admirable performance among Latino and African-American men along with his core base of White non-college educated men have driven many victories thus far. If he's able to keep this up, expect some surprises in the coming days. He's delivered the Senate to Republicans. The White House is not out of reach.
Former Vice President Biden's Victories:
Many of Joe Biden's supporters are very nervous. They trusted the polls and dreamed that states like Texas could turn in their favor in what would be a "blue wave" election. These heightened expectations have only brought disappointment. But if one looks at Biden's performance from a moderate view, he is actually performing quite well. He holds a solid 7 point lead in Arizona (with 78% reporting) and is within striking distance in Georgia despite many Atlanta-area votes yet to be counted. For context, these are both traditional pre-Trump era Republican strongholds. Additionally, his improved performance in the suburbs compared to Hillary Clinton is a good sign for Democrats long term. The Rust Belt may lean towards President Trump now, but many mail-in ballots have not been counted yet. Despite losing many swing states, Biden is still the clear favorite and has more paths to the presidency.
The Current Situation:
Here are the states still left in play: Michigan, Wisconsin, Pennsylvania, Arizona, Georgia, North Carolina, and Nevada. Alaska will almost certainly go to Trump.
How Trump Can Win:
Win Georgia, North Carolina, Arizona and Pennsylvania: This is the easiest path to victory for President Trump. He would win 3 traditionally Republican states along with the most favorable rust belt state.
Win Georgia, North Carolina, Pennsylvania and Michigan/Wisconsin: Assuming Trump loses Arizona, he would have to win a 2nd rust belt state to reach 270 electoral votes.
Win North Carolina, Wisconsin/Michigan, Pennsylvania, Arizona: If Georgia flips after all Atlanta-area votes are counted, Trump would have to win a 2nd rust belt state to reach 270 electoral votes.
Win Michigan, Wisconsin, and Pennsylvania: Deja vu from 2016? If current results hold, this would take place.
Takeaways: Trump needs Pennsylvania. It is his firewall. He's been there A LOT this election cycle and values it more than any other state.
How Biden Can Win: 
These all assume Biden wins reliably Democratic Nevada.
Win Arizona, Michigan, and Wisconsin: Biden is leading comfortably in Arizona. His strong performance in Minnesota could translate to similar results in Michigan and Wisconsin.
Win Arizona, Georgia, and Michigan/Pennsylvania: Georgia looks to become a close race once the dust settles. Arizona is strong for Biden at the time of writing this. Biden should be able to hold 1 of the 2 big Rust Belt States.
Win Georgia, Michigan, and Wisconsin: Same scenario as #1 except relying on a shakier Georgia race instead of a solid Arizona one.
Takeaways: Biden has easier paths to 270, but isn't guaranteed to get there.
Conclusion
It wouldn't be 2020 if there wasn't some twist in this election. Buckle up, it's gonna be a day or two before we have a winner. Please be civil with everyone, even if you disagree with their politics. Politics is very important, but our sense of community and spirit should not be thrown out the window for it.