Come Join Future Business Leaders of America!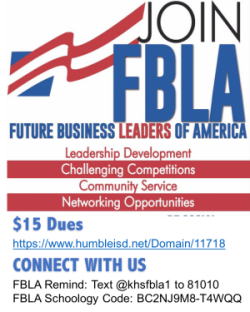 Future Business Leaders of America is one of the most recently-founded organizations on the Kingwood campus. Its overall purpose is to provide opportunities to prepare students for future business careers. While FBLA is focused around business, the organization is great for anyone who wants to develop leadership skills, network with peers and professionals, explore their passions, and receive recognition for their hard work, even if they do not want to pursue a career in the business realm. One great part about FBLA is competing. Whether you enjoy using your creativity, problem-solving, public speaking, taking tests to present your knowledge, or producing projects and presentations over your passions, there is something for everyone.
While routine activities might look a little bit different this year, the officers are working hard to make FBLA a great and memorable experience for every member. By joining, students are able to participate in a variety of different developmental leadership experiences such as seminars and conferences, take part in community service activities, learn from professional guest speakers, and strengthen their overall professional skills as they participate in competitions. Additionally, we will be hosting resume writing workshops and mock interviews to prepare students to succeed in their search for prospective internships or jobs. Overall, FBLA members obtain skills through their leadership, service, and career-oriented experiences that will help them succeed as a future business leader.
You can join by filling out the membership form (found on the KHS FBLA website, Schoology, or Remind101) and paying the $15 due on RevTrak by October 1st. To find more information about FBLA and links for membership/dues, please visit https://www.humbleisd.net/Domain/11718.
Meetings will be held the last Tuesday of each month, with the first meeting being September 29th. At this meeting, we are excited to have Mr. Scott Doyle, CenterPoint Energy's Executive Vice President, Natural Gas, share his knowledge and experience in the business field. We hope to see you there!
FBLA Remind: Text @khsfbla1 to 81010
FBLA Schoology Code: BC2NJ9M8-T4WQQ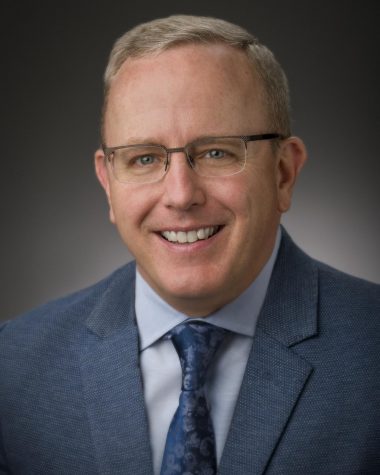 With more than 25 years of utility industry experience, Scott is CenterPoint Energy's Executive Vice President, Natural Gas. He leads the company's eight-state natural gas business that serves more than 4.6 million utility customers. In addition, he oversees enterprise utility operations support as well as safety and technical training- See more at: https://www.centerpointenergy.com/en-us/corp/pages/scott-doyle.aspx#sthash.PQFfxT0I.dpuf
FBLA Leadership Team at KHS – Sponsor Mrs. Laura Abel
| | |
| --- | --- |
| Co-President |  Jacob Shaw |
| Co-President |  Farhan Ahsan |
| VP of Business Development |  Lucas Bush |
| VP of Membership |  Kaitlyn Morgan |
| VP of Communications |  Kelsey Knigin |
| Secretary |  TBD |
| Treasurer |  Stephanie Foutz |
| Historian |  Jake Nichols |
| Parliamentarian |  Hayden Sassaman |