Staying Optimistic…UIL Fall Sports Schedule Update
The University Interscholastic League, UIL, modified the high school sports and marching band schedule for the fall. The adjustments were released on Tuesday, July 21. These changes are the result of larger cities such as Houston, Dallas, and Austin being more susceptible to dramatic increases in Covid-19 cases. The four fall sports that faced changes to their schedules included team tennis, cross country, volleyball, and football. "Our goal in releasing this plan is to provide a path forward for Texas students and schools," said UIL Executive Director Dr. Charles Breithaupt. "While understanding situations change and there will likely be interruptions that will require flexibility and patience, we are hopeful this plan allows students to participate in the education-based activities they love in a way that prioritizes safety and mitigates risk of COVID-19 spread."
The schedules for 1A – 4A conferences will remain the same while the 5A and 6A conferences will have their schedules delayed. For tennis and cross country, the first day for matches/meets was pushed back to September the 7. Volleyball practices will start September 7 and the first day for games is September 14, while football practices will also start September 7 with their first day for games delayed to September 24. For the two largest conferences, this means playoffs will begin on Thursday, December 3rd pushing state championships off. For tennis we are targeted to still in early November. Cross Country and Volleyball both will have state championships in December while football will have theirs at some point in January at a date still to be determined. This is unprecedented for UIL, which usually prides itself on keeping the conferences on equal footing; however, in Texas one size does not fit all when it comes to COVID-19, playing sports and distancing. 
This will all come with many accommodations and carefully navigating the many different standards across the state per school district.  Some schools will have stricter and tighter restrictions, such as the Rio Grande Valley and Houston ISD that have later in-person learning start dates, as the UIL has stated that extracurricular activities, including sports, will not be able to start until in-person learning begins. There are still many open questions for these schools as to whether or not they will have a season at all at this point or will they have to make exceptions around extracurricular activities being a part of the distance-learning plan. UIL also released guidelines for marching band practices and indoor workouts, which includes a mask requirement for band practices and a 50% capacity for workouts.
What does this mean for fans, school spirit, and college recruiting?  There are some initial guidelines that will cap attendance at 50 percent capacity. Students and fans will be required to wear face coverings in accordance to the current state guidelines unless they are eating or socially distanced by 6-feet.  School spirit should not be defined by these limitations.  Kingwood needs to be able to face this challenge and support our athletes from afar. With these thoughtful changes to ensure that these fall sports have a strong season, college recruitment should not be a worry for the many athletes that have worked hard to get to this senior year. We will do our best to keep you up-to-date on the happenings of athletics at Kingwood in this uncertain year. The ever-changing situation calls for flexibility and optimism to ensure a great 2020 sports season for Kingwood Athletics.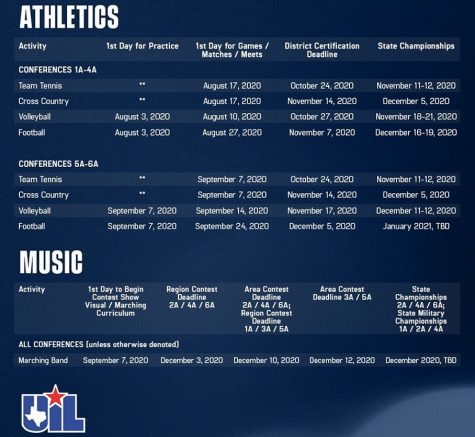 Source:  https://www.uiltexas.org/press-releases/detail/modified-uil-activities-calendar-and-covid-19-guidelines-for-2020-2021
Leave a Comment
About the Contributor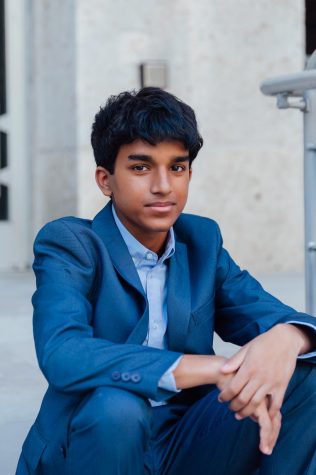 Jacob Shaw, Sports Editor
Jacob is a current senior who was part of the original founding group of Mustang Monthly his freshman year. Jacob is and has been the first sports editor...