A Great Year for KHS Choir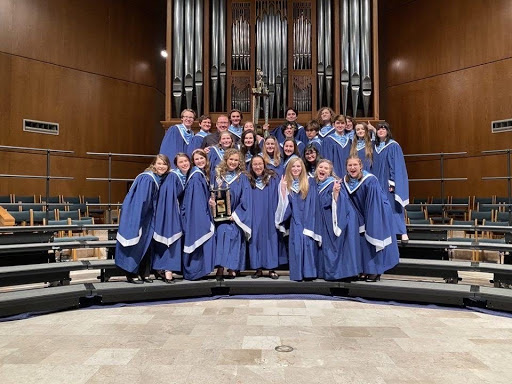 KHS Choir's year was unfortunately cut short due to the shutdown caused by COVID-19. The UIL competitions were canceled, as well as the Spring and Major Works concerts. However, the year was successful for the choir nonetheless. 
The Madrigal choir, led by Jason Watt, went the Texas Madrigal and Chamber Choir Festival, commonly known as "Madsfest," in San Antonio on March 7th. There the Madrigals competed against many highly-ranked choirs throughout the state. They placed runner-up, an amazing success for the choir, surpassing their third place win back in 2018. The Madrigals also had one of their songs, "Ave Maria," featured in the KHS Theatre's One-Act performance of "The Insanity of Mary Girard." Year round, the Madrigals got to sing a variety of songs of different genres and cultures, including songs in Tagalog, Romanian, Russian, and Japanese. Various recordings of their performances can be found at youtube.com/playlist?list=PLBU785jmVes41OiaXWSbklMBTpUfIjYbB&feature=share
Back in February, Mr. Watt and Mrs. Campbell accompanied five students to the TMEA Music Festival, where the five students, Benjamin Piña, Isaac Recio, John Skipper, Julianna Smith, and Jude Watt sang in the All-State Choir, an amazing achievement for the students. Over the February break, some KHS Choir students also took a trip to New York, where they got to see plays on broadway like the show "Dear Evan Hansen."
Despite school being online following, Mr. Watt and Mrs. Campbell continued to educate their students from a distance, with assignments in sight reading, music theory, and learning songs from the major work "The Peaceable Kingdom." They held auditions for positions in the higher choirs for the 2020-2021 school year, and results can be seen on Twitter @KingwoodChoir .
King's 4, OMA, Kapelle, and Madrigals will have an end of the year zoom to wish everyone a happy and safe summer and "have student input for what they'd like to see next year as our classroom becomes a combination of in-person and online instruction." It will be on Thursday, May 28th at 2pm, and the invitation can be found in the students' school email. Mr. Watt and Mrs. Campbell ask all choir students for 2020-21 to check on home access to make sure that  Choir is on their schedule as well as Voc Ensemble if you made Madrigals.