Kingwood High School Sports Status – COVID-19
March 21, 2020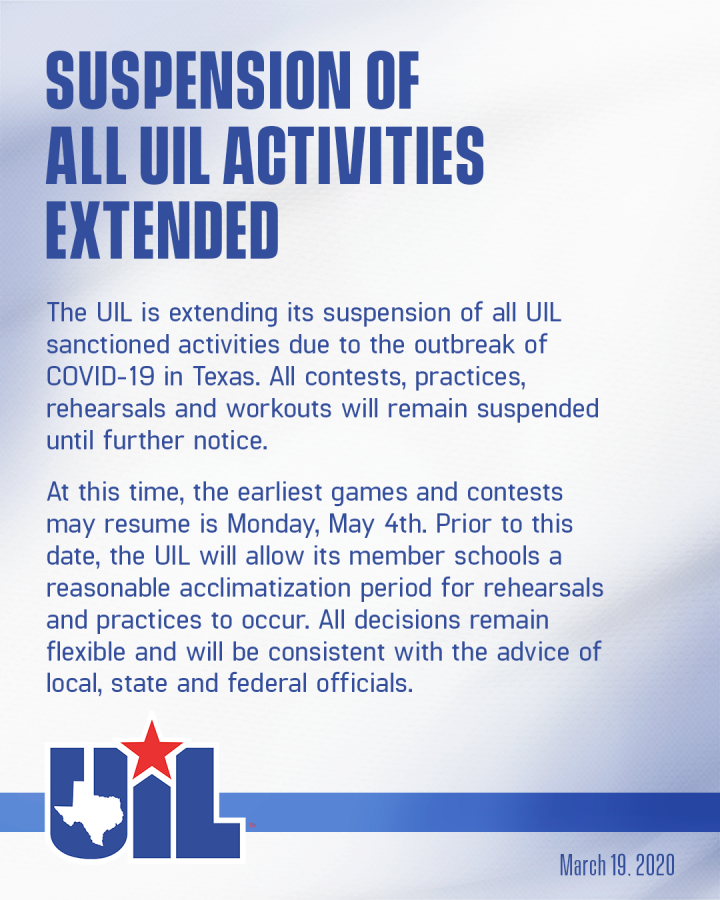 UIL Texas
In light of the UIL Announcement that came out this week, what does that mean for sports at Kingwood High School. The official Announcement from the University Interscholastic League (UIL) extends its suspension of all UIL sports during this time in Texas until further notice.  The suspension of activity includes all contests, practices and workouts. The announcement did give a date of May 4th as the earliest time that things may resume. This comes as the new extension on what was presented last week with the date of March 29th.  Some of the affected sports are soccer, track and field, golf, softball, tennis, baseball and lacrosse. 
What does this new normal look like for so many kids that work so hard to compete at the state level for college recruiting and accomplishing goals? I took some time this week to reach out to several students to take their temperature on how they are feeling about their postponed or canceled seasons for this year.  
"I'm not really sure about what is going to happen with baseball. I guess if they are keeping the baseball season alive still then we will just have more time to prepare. But if they're already pushing them that far back, I'm assuming that the baseball season is practically over, especially with the amount of games we still have to play and playoffs. We only got to play one district game and a handful of tournament games, so missing out on the rest of the season is extremely disappointing for all of us, especially the seniors. Now, we don't have a chance to develop as a team and connect as a family, which is truly saddening. The situation is just really unfortunate because we have a pretty good team this year, and we had a lot left to prove. Going out with a bad performance against Atascocita is not how any of us wanted to end the season. So basically what I am trying to say is that all of us on the team are hoping that they keep the baseball season alive, and in the meantime, we are still doing our best to keep our minds and bodies rested and prepared for a return to play." – Neil Tian | KHS Baseball
"Since they haven't actually canceled the season as of now, we still have a season and how that will look i'm not sure but right now we are still hopeful. We have been in contact with our coaches and teammates and we are prepared for the season to be canceled and we will cross that bridge if and when that happens. I also know that we are fully prepared for a season to resume when and if that happens. We are not ready to say goodbye to this team just yet." – Ashley York | KHS Softball
"I'd say that the cancellation of UIL sports definitely impacts not only the seniors but everyone in the spring lineup. Weeks and weeks of tournaments build up to what is supposed to be the grand finale, districts, where you can throw it all out there and go out with a bang. No one has a chance to end their season putting it all out there, because of the cancellation. As for me, I think I had a strong chance of making it to state so it's slightly upsetting that the season has been postponed/cancelled. I definitely wanted to give it one more chance to put it all out there and see how far I could go in the UIL tournament this year as a senior." – Dalton Locke | KHS Tennis
"Because state playoffs for lacrosse end Mid-May, the UIL cancellations effectively have ended our season. The Coronavirus pandemic has surely wreaked havoc on the world, so our losses are minimal; however, the team as a whole is heartbroken to see our year end this way. With a varsity roster of 20 seniors, the Kingwood Lacrosse program sees off one of its biggest and most influential classes of student-athletes without a senior night, without a final game, and without a playoff run. This lacrosse season for Kingwood will always be "what could've been"- we will never get to see and experience potentially our deepest playoff run ever with 3 returning all-state players, 2 returning all-district starters, and 2 players committed to play Division 1 lacrosse in college. On a personal level, I'm saddened that I will never get to experience another moment with this team; I've been playing with many of these guys since middle school, so I'm incredibly close with all of them. We were truly a band of brothers, so our season ending like this is the end of a major chapter in my life. Unfortunately, I never knew that my most recent game was going to be my last. I'll never have a happy resolution to my swan song on the high school lacrosse field, leaving me bitter and regretful that I didn't appreciate my final moments as much as I could've. The health and safety of our community must be our first priority, but it's been hard to walk away. Sadly, this is a reality for Kingwood's lacrosse team and other athletes all around the world. We all hope that this dangerous virus passes quickly and gives us all a chance to play one last time." – Bergen Goldsmith | KHS Lacrosse
There are so many uncertainties of how this can be even done to catch up games working now with a May 4th date to be able to create brackets for playoffs and further.  "We are working diligently on contingency plans to conduct state championships in each of the activities that have been suspended," said UIL Executive Director Dr. Charles Breithaupt. "While the immediate future is unclear, we are committed to providing these much-desired activities to all Texas students and will prepare for all possible outcomes, including extended school closures." Of course, there is the looming fact that seasons will just be cancelled entirely. Stay safe and social distance Kingwood community!