KHS Students Prepare for Houston Area Model United Nations Conference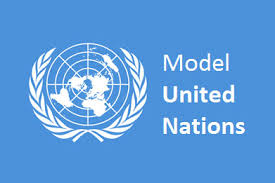 With the arrival of the new year, members of Kingwood's Model United Nations Club finished up their preparation and entered their biggest conference of the year: the Houston Area Model United Nations Conference (HAMUN) at the University of Houston! On January 23rd and 24th, students from high schools throughout the Houston area convened as delegates of the United Nations in order to discuss important international issues and develop possible solutions to real-world problems. For KHS Model UN students, preparation for HAMUN began with the start of the new school year in August and never slowed down. At the start of the year, students were assigned one of three countries to represent. In addition, they were also assigned to a specific committee, or branch, of the United Nations, in which they would be addressing two real-world problems related to the focus of their committee. For example, at the conference I represented the delegation of Argentina in the United Nations Environmental Programme Committee, where my fellow delegates and I addressed the protection of the Amazon and desertification in the Sahara region. Over the course of the past several months, KHS Model UN students have been busy researching their countries and topics, writing position papers, developing ideas, and practicing parliamentary procedures in order to prepare for this big event.

This preparation was not in vain, as three members of Kingwood's Model United Nations club received awards this year! These students were Alex Richmond (junior), Ainsley Gill (junior), and Jakob Knutsen (junior), all three of which participated in crisis committees at HAMUN. Alex and Ainsley both received honorable mentions for their respective committees, and Jakob was awarded best delegate in his committee! Overall, HAMUN provides an incredibly unique and enlightening opportunity to learn more about foreign policy, develop essential teamwork and presentation skills, and build new friendships and relationships with others! Whether you're interested in international relations, politics, geography, debate, or even travel, being involved in Model UN will pique your interests and broaden your horizons about the world!