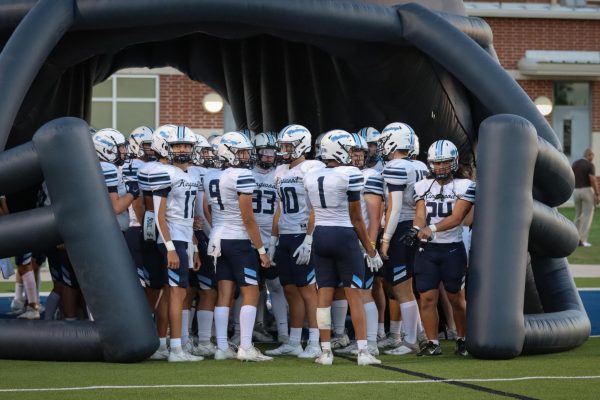 This year the message has been "ALL IN" at Kingwood High School and that is just what Mustang football has been doing. While the scoreboard has not always reflected what we might like to see, our players have come out every game playing with heart and improving week after week. The Kingwood Varsity football team is a young team with many sophomores and juniors leading the way on the field along with the seniors.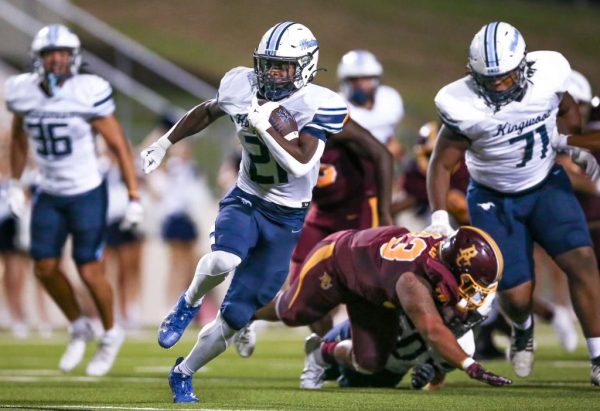 This past week was a sweet victory for the Mustangs where they saw some things finally come together for them as a team. There were many offensive playmakers for the team effort last week. Quarterback Holland Hargrave had a great game of execution in leading his team to victory. Junior Jailen Monegan played well with a touchdown and some big blocks on the outside. Stone Singletary, sophomore wide receiver, has had a great season, and had a 28 yard touchdown against Beaumont United, keeping the score up for the Mustangs in the third quarter. Let's not forget the highlight of the night from senior captain Tyler Harrington's 80 yard screen pass reception that he took to the house, missing many tackles as he outran the other team. Marquez Davis, junior running back and new to KHS, rushed close to 207 yards for 4 touchdowns throughout the game. The offensive line did a great job creating opportunities and holes for Marquez to run the ball consistently and earn player of the game.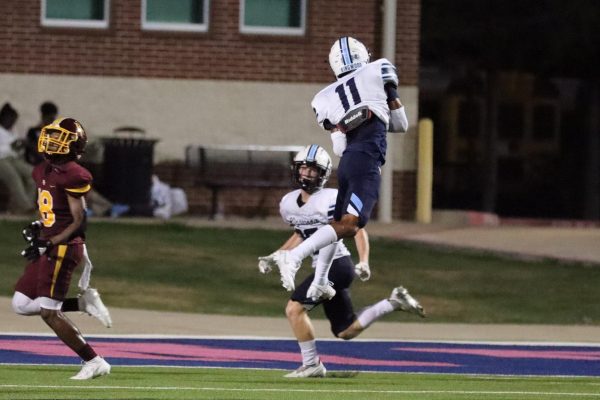 The defense did not disappoint as well, with junior defensive back Joshua Arroyo making three interceptions, keeping the game interesting and getting the offense back on the field. Joshua is an all around athlete who you can often find playing basketball and baseball for KHS in past years. Sam Malone, junior left back, had a forced fumble that put the Mustangs in the red zone, keeping momentum going. Colt Busta also had a great interception creating opportunities and momentum for KHS.
I took some time to ask some of our players to reflect on their individual game and the game as a whole. We asked the senior captains and some of our Mustang playmakers to reflect on what was the biggest change for the United game as well as what made the team come together as a whole. We also asked some of our players to reflect on the upcoming homecoming game against C.E. King. Here is what they had to say…
Senior Captain, Austin Langley, summarized it well.
"The biggest change I saw last night was the energy. When we scored everybody was cheering and when they scored the first touchdown we all kept our heads up and fought with more energy than the other team. Everybody executed at the right time and came together well. We were also more prepared going into the game. Everyone watched a lot more film and worked a lot harder to figure out what their team ran on before we stepped on the field." – Austin Langley (Senior Captain)
"After a rough start to the season we went into this game more hungry than ever and gave our all. This win was a big moral booster for the team and good momentum to go and win Saturday's game against a tough C.E. King team." – Marquez Davis

"It felt good to get a win but we are not satisfied and won't be till we reach our goal of the playoffs." – Adeolu Dada

"This game was different because we wanted it all. We said we aren't losing we aren't walking out the stadium with out a win. We are going to go into the game like a playoff game we have to win. We have a chance and we have a game plan to win." – Eric Smith

"That win felt great all the weight is off our chest and we have a little bit of a momentum, coming into this next game. We our going to have to leave everything on that field if we want a shot at playoffs." – Stone Singletary

ALL IN and ready for Saturday's Game! (Suzie Peterson)

Love the tradition win or lose! (Suzie Peterson)
Coach Melton also took some time to reflect on the season and his Varsity team this year. Here are the encouraging words he had to say for his team and the Kingwood Mustang Football program.
Coach Melton what was the turning point last week in making the win happen for KHS?
"The turning point was everyone believing we could win. Our players believed in themselves and their teammates and never stopped fighting!" – Coach Melton
What were some of your stand out moments of the game and players that took leadership on the field this past week?
"First, was the offense going down on the 1st drive after United had scored. Second, we had some key players play their best game yet. Marquez Davis rushed for 208 yards, Josh Arroyo had 3 interceptions with 2 of them being in key situations down the stretch, Perry Rice had a big game up front on the offensive line and our whole defensive line played hard every snap. (Tate Bjornstad, Casen McDonald, Adelou Dada, Christian Brown and Richard Mcloughlin)" – Coach Melton
Looking forward, what is the team's focus building on this win and carrying that to this coming weekend of Homecoming?
"Our focus this week is on us, we want to execute at a high level and win all three phases of the game. We must focus on one game at a time and playing as hard as we can for 48 minutes!" – Coach Melton
KHS has a tough season of games ahead of us still. How do you keep this young team motivated and ALL IN for the season to not give up?
"Our district is arguably the toughest district in the state and we will have to stay focused. We are young and we have had some rough patches, but it hasn't changed their attitudes and their work ethic. We as a staff keep saying "just keep getting better each and every week and it will pay off" (HWPO) . Our motto the last few weeks has been "We Will Win" we are understanding that we must believe in ourselves and our teammates. Our players are excited and focused on being the best they can be every week and they are learning how to fight and never give up!" – Coach Melton
Come out and support the Mustangs this week on Saturday, October 7th, for our Homecoming game against C.E. King at Turner Stadium, 6:00 PM. Go Blue!