Grace Gardner – The New Artist You Should Look Out For
Grace Gardner, an Austin-based singer-songwriter released her first EP, 'Peach' on March 3. The singer teased songs 'Designated Driver', 'Acrobatics', and 'Parcel' at her Houston show opening for Ella Jane. This concert was on February 13 at White Oak Music Hall. The show was intimate and allowed Gardner to debut her music to many who had not heard her music before. 
Gardner's songs are raw, heartbreaking, and relatable. She puts feelings that many are not capable of articulating into words. Grace played her song 'Designated Driver' at her Houston show, and told the meaning behind the piece. She said that the song was about a "friend breakup", and related to the audience by saying how friend breakups are often worse than romantic breakups. She also said that 'Parcel' was inspired by an inside joke, and that other songs on the EP were written about a "situationship" she had.
She shared on Instagram through her journal pages that "'Parcel is about being the second choice but still saving space for them. It's biting and pained, but still yearning at its core. It comes after 'Deny Me' in the Peach narrative, channeling the debilitating weight of heartbreak and anger towards people – and their decisions you have no control over. It's contradictory and heavy." 
She also wrote down her inspirations for the single, which include '25' by Alix Page, 'The Cause' by Tommy Lefroy, 'The Fatalist' by Girlhouse, and 'I Wish I Never Met You' by Babygirl.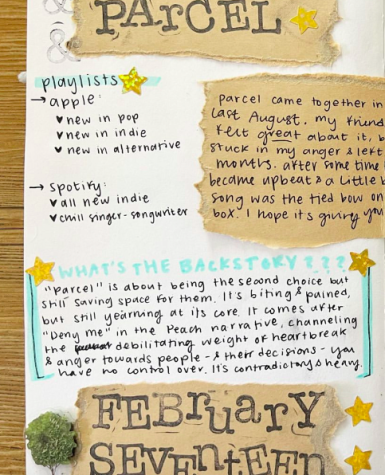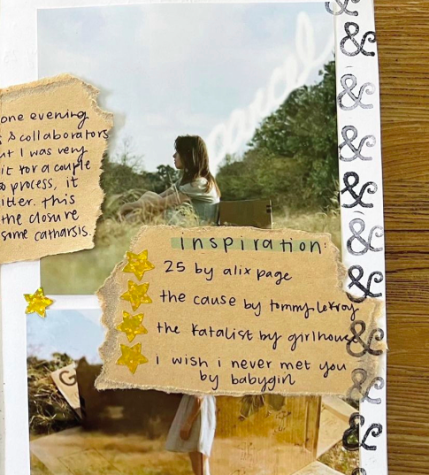 'Parcel' is an obvious change from the style she has in the other tracks on her album. It's more upbeat and catchy, but it is still the same emotionally wrenching lyricism that she is known for. It's a perfect addition to her EP and is perfect for any playlist.
Gardner captures the feelings of attachment perfectly throughout her album. Some lyrics that resonate hard are, "Tie myself in knots in case you're watching" from 'Acrobatics', and "I'll be waiting like a parcel at your door" from 'Parcel'. Grace's music is yearning, emotional, and deep in meaning.
The EP 'Peach' consists of 4 songs entirely written and produced by Grace Gardner. It is available now on all streaming platforms, and you can follow her on social media @gracegardnermusic!