Houston We Have a Problem, The Astros Have Done it Again!
November 8, 2022
---
Are you still thinking about those amazing Astros, one week later? Six years after the cheating scandal proved the doubters wrong, winning the World Series again, this Astros organization has achieved what no other team has accomplished in baseball's modern era.
The Astros have been to the ALCS six straight seasons, winning four pennants and two World Series titles. Only five players remain on their roster from the 2017 team. So many people were looking for them to fail with poor decisions during playoffs or bad luck, yet they continued to defy the odds, capping off 2022 with their second World Series title.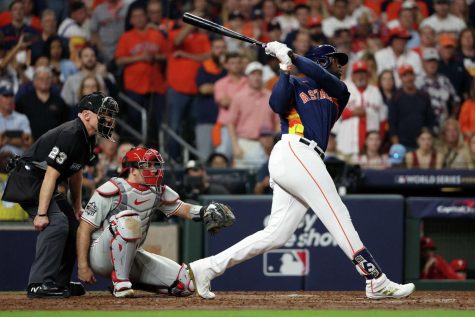 The moonshot by Yordan Alvarez cemented the team's victory in Saturday Night's Game 6, defeating the Philadelphia Phillies 4-1. Furthermore, this was more than just another victory for the Astros as they had to come back from their 2017 sign-stealing scandal to show that they are a team that deserved to be here just six years later, leaving no doubt.
I tried to get many others to write this article, as I need to become a knowledgeable baseball fan to be credible here. However, once I started the research for this article, I discovered how impressive this victory was for the Astros. They have been dominate since 2017, winning over 60% of their games in season and postseason, putting them in the same league as the Braves, Yankees, and their current rival, the Dodgers. I realized that I was missing out on one of the best teams in my own backyard! A team that focused on rebuilding its image through hard work and perseverance. 
"The Astros winning the World Series is amazing for the city of Houston. The Astros have put together such a great group of players that are easy to relate to. They exemplify the perseverance, diversity, grit, and passion that Houstonians love. My favorite moment of the World Series was when Chas McCormick made the amazing catch off the wall to help preserve the game 5 win In Philadelphia. Even more special was the fact that he grew up only 22 miles from the Phillies stadium. Baseball always has so many games within the game, which is what makes it America's Pastime." – Tony Bender, Pharmaceuticals, Addis Faith Foundation and KHS Community Leader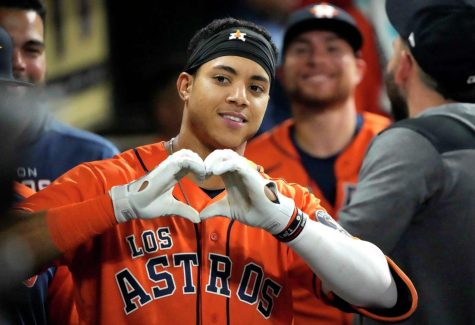 There were many standout players along the way. My favorite player of the season is rookie SS, Jeremy Peña, who in 2017 was in college at the University of Maine, and became a third-round pick that year. He was awarded MVP of the World Series, the MVP of the ALCS, and also won a Gold Glove at SS.  He maintained a humble perspective, and played hard throughout the series. The Washington Post quoted José Altuve, Astros second baseman.
"Jeremy has a lot of good things…If I start talking about him, we might spend two hours here. He's a great player, and I love the way he is handling everything." – The Washington Post, November 5, 2022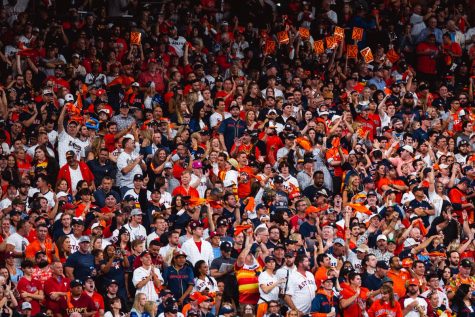 The Houston fans through the series have been what has made this team a true stand out along with its players. This next example depicts it well.
"Aaron Judge broke the American League record for home runs with 62 but when he struggled at the plate the New York fans booed him. Jose Altuve struggled at the plate going 0-25 or so during the postseason and Houston fans cheered him on." – Jason Archinal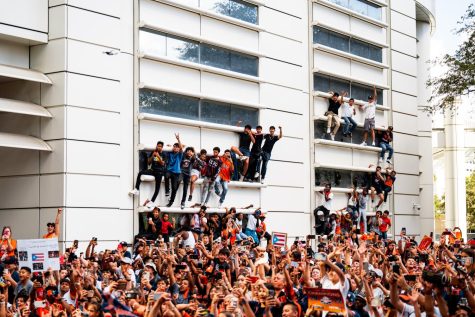 The best part of this World Series win was seeing the fan loyalty from Houston. The parade had an estimate of more than 1 million faithful fans that took to the streets to celebrate their team. Offices and schools shut down, and families took a break from the daily grind to celebrate in unity. Unfortunately, we have not been able to come together like that in Houston since COVID, so this was great to see. Although I missed all the fun this year due to being sick, I will not miss keeping up with the Astros in the future.
I decided that I needed to take this to the streets of Kingwood and ask our KHS community and baseball team what they thought about the World Series this year and why they loved the Astros so much. 
"I love the Astros because it's something that everyone in Houston can really take pride in. We are one of the best teams in the MLB year after year. Fans all around the country hate us and it's so fun to watch our Astros shut them all up. I play baseball at Kingwood High School and my teammates and I feel like we can really relate to the players we watch on the biggest baseball stage in the world. It's a feeling that's indescribable and is something that cannot be replicated in any other way." – Ty Boatwright – KHS Baseball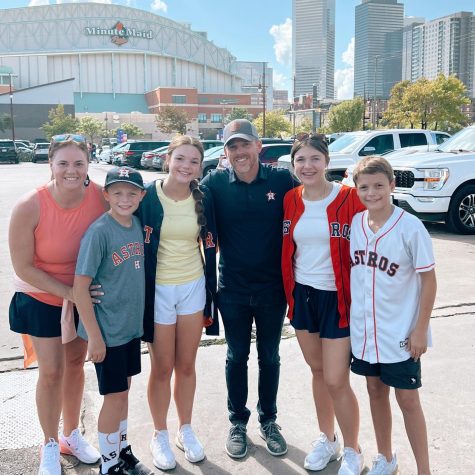 "I love the Astros because I have followed them since I was a kid and it was awesome to see some of the old guys like Bagwell and Biggio and also our young core of players knowing we will be good for a while." – Chris Kouba, Pastor & Dad at KHS
"I think that the Houston Astros portray an excellent example of what it takes to win, overcome, and dominate. The way they present themselves as a whole shows everyone in the Houston area that we are great and that no amount of adversity can overcome us. They've shown us that we are winners. With that being said I hope that we can take the Astros mentality and approach to our high school season and potentially win a state title." – Jackson Jones – KHS Baseball
"The character of the Astros fits the character of Houston. Blue collar, hard working, and well balanced. Maybe not a whole lot of flash but just enough talent to make a difference. In a league where teams are looking to overpay big names for an immediate fix, the Astros have built a dynasty through the minor league and lesser known players. Nobody wanted Jose Altuve, he was too small. Yuli Gurriel is too old. Kyle Tucker is too lanky and looks like an accountant. Dusty Baker is a great guy but past his prime. Justin Verlander is paid well but coming off of Tommy John surgery nobody knew what to expect. And not to mention the rest of the no-name pitchers in the bullpen. So all they did with those misfits is go to four World Series in six years, winning two of them.  Houston has a diverse population, excellent quality of life, and even though we boast the largest medical city in the world it has a welcoming atmosphere. Lance McCullers summed it up best for his team and his city when he said, "Bury me in the H!"" – Jason Archinal – Medical Devices & Dad at KHS
Just like the Astros, Kingwood High School baseball looks forward to a great season for the Mustangs. The KHS baseball team is already working hard to dominate this season and play consistently to arrive at a strong showing in the playoffs. Talking to Coach Kelly Mead this past week, you can see his drive and enthusiasm for his program and teams.
"There is so much that the Houston Astros have done over the past 6 years that our student athletes can learn from. The Astros organization and players have overcome so much adversity to accomplish the title of World Champions 2022. Winning a Championship, as we all can see, does so much for our city in a positive way. Our baseball program here at Kingwood has so much tradition of being successful. You can see that the leadership within the Astros clubhouse is a direct result of their team's success. Our motto here at Kingwood is "Protect the K", protect the winning tradition of all the KHS baseball players that came before us, on and off the field. Our players know that when they put the Kingwood Jersey on that they are playing for so much more than themselves, they are playing for the "K". We, as coaches, are very excited about this upcoming season and what this group of young men can accomplish this year. " – Coach Kelly Mead