Midnights by Taylor Swift – The New Album
Taylor Swift dropped her highly anticipated new album, Midnights, on October 21. This is a historic release for Swift, as it is her tenth studio album. This number does not include the two re-releases she has put out since 2021. Unlike her re-releases, this album is made of never before heard songs by Swift. Midnights originally consisted of 13 tracks, which Swift revealed day by day on her Tiktok account leading up to the album release. These songs were all written on 13 sleepless nights, around midnight. Fans started to "claim" which tracks they believed would be the best. At 3 am on October 21, Swift released another edition of the album, which added 7 new songs to the tracklist. In addition, the CD version of the album includes another song, called "Hits Different". The original album is available on all major streaming platforms, with the addition of the "3 am edition" songs.
Swift also released a video for the first single on the album simultaneously with the album. "Anti-Hero", written and directed by herself, is a creative video in which Swift depicts her inner battles. Starring Mike Birbiglia, Mary Elizabeth Ellis, and John Early, the video is more than just a music video, it is a story. In an Instagram post announcing the release of the video, Swift wrote "watch my nightmare scenarios and intrusive thoughts play out in real time". "Anti-Hero" is very much one of the more introspective tracks on the album, and has been received well by fans and critics alike. 
Swift released another music video on Tuesday, October 25, at Midnight EST. This video was for the second single on the album, "Bejeweled". In this video, Swift sent fans on a hunt for "easter eggs", as she calls them. These are secret encoded messages that Swift hides in her posts, videos, and appearances, which she has become known for. Taylor Swift appeared on Jimmy Fallon's Tonight Show on the night of the video release and told Fallon what the video is about and what fans should be searching for. The video stars the HAIM sisters; Este, Danielle, and Alana Haim, who are some of Taylor's closest friends. The video also showed cameos of Laura Dern, Dita Von Teese, and Taylor's producer, Jack Antonoff. The cast's glitzy makeup is thanks to makeup artist Pat McGrath. The video is based on Cinderella, and Taylor is shown wearing many different "bejeweled" outfits and looks. Swift's videos for this album seem to be telling a story and are representative of her incredible directing skills.
Midnights is already a global hit, and who knows what Swift has in store for upcoming music videos or suspected tour dates. Swift is always full of surprises, and as she said, she is a "mastermind".
Watch the "Anti-Hero" Video Here.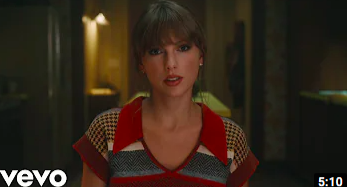 Watch the "Bejeweled" Video Here.