Salmon Colored High Heel Shoes – Human Trafficking Awareness 2021…
January 11, 2021
During the 2020 October school break, I was traveling through Marshall, TX en route to Caddo Lake. My parents, sister, and I were following my grandfather (aka Papa) and other family members in the truck ahead of us. What you need to know about Papa is he is predictably unpredictable, so when he suddenly made a left turn off the main road, nobody was overly surprised. And honestly, we were all down for a little detour exploration. We like adventure. It's exactly why we were heading to Caddo Lake to begin with. 
Marshall is a historically rich, small college town where both Wiley College and East Texas Baptist University are located. In addition to higher education, the town offers empty buildings and mostly quiet citizens. Although there were people there, the emotional presence of the town was lacking and contributed in many ways to its eerie feeling, in my experience. We thought maybe the sudden route deviation would lead us to one of the college campuses. But no.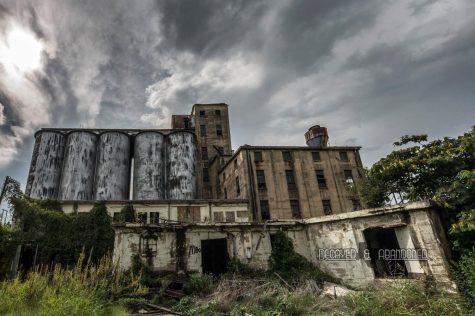 We followed Papa down a single lane road. Shortly after passing a cemetery on the left and with railroad tracks in the distance, we pulled onto a foreboding and ultimately unnerving piece of property. We first saw the old abandoned grain mill as we were driving down the one lane road. The tallest part of it was seven stories high with two rows of five silos attached, ten total. It was artistically beautiful and intriguing. A "wow" was all I could manage. But as we drew nearer, a feeling of overall eeriness pervaded my senses. The closer we got to the mill, the better we understood what was making it so intriguing. It had character, and lots of it, just not the sort of character that makes one feel warm and fuzzy on the inside. There was trash, broken glass from various beer bottles, and debris scattered everywhere across the grounds. We decided to park and take a quick peek at the mill since it was the object of Papa's diversion in the first place, having caught a glimpse of it from the main road once before. Then we would leave and hopefully rid ourselves forever of the creepy property. Though the mill was in a state of complete disarray, all I could think about as we walked up to an open entrance on one end of the silos was the history that had occurred in this mill standing before me. Being a slight historical nerd was definitely working against me when it came to my less-guarded-than-usual thought process that day.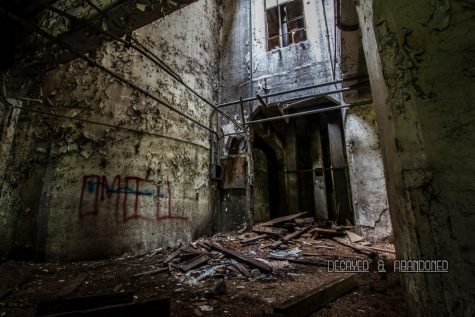 Knowing I could get a chance to explore inside this landmark and leave my own footprint on such a prevalent piece of the past was making me positively giddy. I'm not sure I've ever before experienced such simultaneous conflicting emotions as I did on that day. Never mind the bullet holes that pockmarked the concrete walls, the crude and illicit graffiti messages and murals that gave warning, or the voice around the corner that was heard by my mother who was suddenly whisper-yelling at us to turn around and leave. This was an October adventure right? Nothing could stop my pursuit of historical investigation, until it did. 
To my right, laying next to an old, nasty mattress was one salmon-colored high-heel shoe. I spotted its match laying on its side a few yards away, a bright spot of color in a sea of dismal dirt and filth. I will never forget the image of these shoes so carelessly strewn about. Who was the girl who last wore them? Did she come to this place willingly, or was she forced to? Why did she leave without her shoes?  Is she okay, or even alive? Are her parents, brothers, sisters, or friends looking for her? Seeing these high heels just nonchalantly strewn about stopped me in my tracks. Anyone under normal circumstances would not just simply leave their shoes behind, especially at this awful place. And then the pieces of the puzzle… abandoned buildings, graffiti, broken windows, bullet holes, random mattresses, personal articles here and there… began to fit together. Was this a place traffickers frequented? Was this woman taken from a grand party by a gang of ruthless traffickers? Or was she an explorer, merely curious about the mill and its history like myself, who was abruptly taken? There were no clues left behind to echo definite answers to the mystery of the salmon-colored shoes. 
This experience forced me to consider small towns and how they are usually not pinpointed as major trafficking locations. They are not contemplated as a threat, but in reality they are one of the biggest threats there is. Yes, big cities such as Houston play a major role in trafficking, but they are known trafficking hubs. Therefore, proper precautions can usually be taken to thwart traffickers. Small towns, however, offer traffickers places where they often do not need to be as careful. Many more abandoned buildings seem to dot the landscape of smaller towns than they do in large cities, possibly due to the historic value of these buildings or that redevelopment is too costly. Quite often, the proper law enforcement authorities are just unaware of the problem in many of these abandoned buildings. But then there's also the popular coping tactic in today's society that is to turn a blind eye to what one does not wish to acknowledge. Unfortunately, this is sometimes true of even local authorities because it is too large of an issue for them. It is imperative that we decide it's not too large of an issue for us as a society, and begin to acknowledge this evil that exists everywhere in our world in order to end the hurt that it tragically sheds from the small towns to the big towns.
I am excited to be a part of the Youth Action Board for the Project Protect Our Children Non-profit organization and a member of the KHS Project Protect Our Children Human Trafficking Awareness Club, both of which have a mutual, dedicated mission to prevent child sex trafficking, exploitation and abuse through proactive community engagement, preventative educational programs, awareness and empowerment opportunities. Due to being a part of Project Protect Our Children, I have realized that the only way to end trafficking is to offer preventative education to students of all ages and community members.  
Please consider joining the fight with us, and the KHS community, as we raise awareness throughout the month of January 2021. We will be working with the KHS Must-Have Monthly Convos series starting Monday, January 18th at 8 PM and other student organizations this month to highlight the problem in our own community here in Houston. Look for posters starting the Week of January 11th telling our story.
We are encouraging all KHS Students and Staff to wear BLACK, RED or WHITE to raise awareness for Human Trafficking on January 11th – National Human Trafficking Awareness Day.
"Every child should be taught how to protect themselves from human trafficking and exploitation. Every victim should be given the opportunity to be recognized, as most walk among us controlled by their trafficker and shackled by psychological chains." – Denise Mears, Project Protect Our Children Non-profit Organization Executive Director and Founder
Follow us @ppoc.htx on Instagram to catch all the excitement of our annual Human Trafficking Awareness month events.
Author: Aynslee Adelman; Editor & Photos: Jacob Shaw
Youth Action Board: Lauryn Stetson, Meg Peck, Jacob Shaw, Aynslee Adelman, Kendall Weatherford, and Annelise Nodecker, Melissa Adelman (KHS Sponsor)