Decisions, Decisions:  Which College Admissions Decision Type is Best?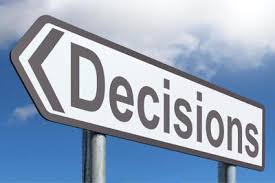 Ann Crane and Nancy Westwood
February 25, 2020
Colleges and universities have multiple options for students to apply and an equal number of ways to inform applicants of their admissions decisions. Some of these may play a significant role in when and how you apply. Others are simply helpful to know for applying and planning. Most colleges and universities state these options and deadlines on their admissions page.  To help you understand the differences, this article will discuss the most common.
Regular Decision – Schools set a specific deadline by which all applications must be received. Applications are reviewed after this date. Most regular decision application deadlines occur between November and early February, but there are certainly schools that have later deadlines. For example, Texas State University's regular deadline is March 1st. Admissions decision dates vary widely by school but most inform applicants by March. Many schools that have regular decisions, also offer other options such as priority deadlines or early action. Examples: almost all colleges and universities.
Early Decision – This type of application is binding. Students may only apply to one school early decision. If accepted, students must enroll and withdraw all other applications. Families sign a binding legal document indicating financial responsibility. Students should only use this option if there is a clear first choice and the student is willing to attend regardless of any financial aid package. All schools that offer early decision still have a regular decision option. The primary advantage of using this option is that applicants are usually informed of decisions before winter break. For competitive colleges, admittance chances can increase slightly. Numbers can be deceiving, however, as applicants in the Early Decision pool are often students with impressive resumes. Some schools now offer two Early Decision deadlines. The first deadline usually will be in early November and the other is usually in early January. Beware that the decision could be deferred, which means your application will be placed into the regular decision pool to be reviewed again. Examples: Baylor, Northwestern, NYU.
Early Action – Is similar to Early Decision but is not a binding agreement. Early Action applications have an earlier deadline and applicants typically are informed of a decision by January. Some schools allow you to apply to multiple Early Action schools. Others are restrictive or single choice. Please check the admissions websites for each school when considering any early application option. Be aware that the decision could be deferred which means your application will be placed into the regular decision pool to be reviewed again. Examples of Open Early Action:  University of Michiganand CalTech. Examples of Restrictive Early Action:  Stanford, Yale, Harvard.
Rolling Admission – Applications are reviewed as they are received. Admissions decisions usually are made within four to six weeks.  Most colleges and universities that accept rolling admissions will have a final deadline by which all applications must be received. Many recommend applying well before this date, especially if you are unsure of your admissions chances. Another reason to consider applying early is that once a student is admitted, many schools start preparing a financial package including automatic scholarships and aid. Examples: Texas A&M,Oklahoma State, Colorado School of Mines
Open Admissions – This admissions process means that schools will accept the vast majority of applicants.  This type of admissions is common to community or two-year colleges. To be accepted, you still will need to complete all necessary documents and paperwork. Examples:  Lone Star College, Blinn College, Austin Community College.
Scholarship/Honors College Priority Deadline – Many schools have priority deadlines for special programs such as honors colleges or merit scholarships. This is widespread and must be checked on the application deadline page for individual schools. Example:  University of Houston, University of Texas, Purdue.