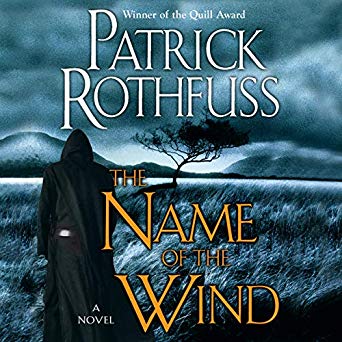 Book Review: The Name of the Wind by Patrick Rothfuss
I have always been the type of person who could never answer the question "what's your favorite book?". That is, until I read The Name of the Wind. The first in the Kingkiller Chronicles, this masterpiece is more than just a book. Patrick Rothfuss has created an intricate universe in which the main character, Kvothe (sounds like "quoth"), experiences life. The novel begins slowly, with a prologue about a three-part silence, giving the beginning of the novel an eerily still quality. In the first chapter the reader is introduced to Kvothe as an older inn-keeper, named Kote, though it hints that there is more to him than this. As the novel picks up speed, Kvothe begins to tell his life story to Chronicler, a scribe who is assumed by the reader to be the one who has written the novel. We are then introduced to Kvothe as a young boy, curious about the world, arcanists, and sympathy (magic). A true bildungsroman, Kvothe grows older throughout the novel and experiences many hardships, but his love for music and learning and his knack for getting in and out of trouble stick with him throughout. 
Although The Name of the Wind is nearly 700 pages long, it comes nowhere near being long enough to tell Kvothe's entire story. After reading the book for the first time, I quickly devoured Rothfuss's longer, 1000 page second part, The Wise Man's Fear. I immediately began searching for the third and final part, but to my despair, Rothfuss is still working on it after almost nine years. The dedication and time Rothfuss puts into his books is obvious. Rothfuss has created an entirely different world, outlined the social classes, the governments, the prejudices, the inequalities, the currencies, you name it, Rothfuss has thought of it. Additionally, the author works so wonderfully with the pace of the book. He always keeps Kvothe and the reader on their toes. Just as soon as you have begun to settle into the rhythm of the new setting, Rothfuss switches it up on you. There are so many great aspects to this book, it is difficult to name them all. Patrick Rothfuss has created a masterpiece and I cannot wait to read what comes next.