A Summer of Sailing, Scuba, and Science
My summer break involved a 45 foot boat, nine complete strangers, a handful of sharks and a few college credits. Ever since I can remember, I've been dead-set on pursuing ocean science as a career. Some people think ocean science only prepares you for a gig at SeaWorld, but the ocean is one of the last truly unexplored areas on Earth. So, I found an accredited summer program through an organization called Broadreach that has been providing pre-college experiences since 1993, and decided that this is where I was going to spend my summer of 2019.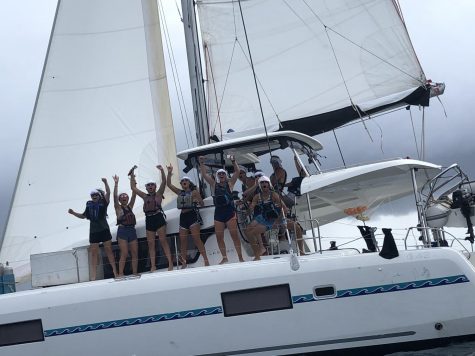 This particular Marine Biology Voyage sailed to 5 islands and 2 territories, providing me with various dive certifications, community service and college credit hours. On June 15th, I flew by myself to St. Maarten in the Carribbean. Here I met up with fellow Broadreach boats, and my new family at the "Pad". The Pad was a shack in the middle of a marina that had been destroyed by Hurricane Irma. This was the temporary headquarters of Broadreach's operations in the Leeward Islands. I got all my scuba equipment and dropped my one backpack and one small duffle bag (all that we were allowed to bring) under my assigned boat's name, "Tidre". We all got a brief introduction to the rules and regulations, ate dinner (which the students cooked each night), then finally set off for our floating home of the next 21 days, a 45-ft catamaran.  We hopped into the dinghy and headed to the boat, barely able to fit even without our gear. On Tidre, there were seven students, including myself, and also our three instructors. Calvin, from the UK, was our Dive Master and scuba instructor. MG, from Kansas City, was our resident marine biologist and instructor. And, Eli, from Israel, was our skipper and sailing instructor. That evening we each had an individualised meeting with our instructors, where we had to give them our sim cards, passports, and medications. From here on out I was without communication from the rest of the world. This means no Netflix, no Snapchat, no Instagram, no text messages, nothing. It was the best and worst feeling to be so disconnected. Each day we were awake with the sun to begin lessons, chores and new adventures.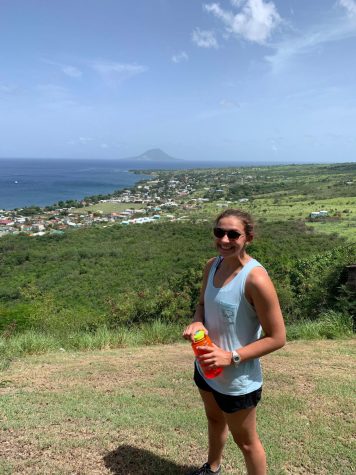 In Week One, I eventually got over some pretty rough seasickness, went snorkeling, explored my first dive site, hiked a mountain at sunset, adopted a pet barracuda living under our boat, served as the first Student Instructor of the trip, saw my first wild shark and green sea turtle, went cliff jumping, earned my open water certification and attempted (unsuccessfully) to master nautical knots. During our daily lectures, we discussed reef ecology, reef biology, ocean chemistry and also primary producers. The lectures were even more valuable, because you were able to take the knowledge from the class and apply it to what you were seeing underwater. During the first week we went to three destinations: St. Maarten, Isle Phorache, and St. Barts. We learned more sailing skills such as mooring and anchoring, but I was still really bad at knots. 
At the beginning of week 2 we made a 10-hour sail to the island of St.Kitts. There I began my advanced open water, fish identification, and underwater naturalist diving courses. While in St. Kitts we had a lecture on invertebrates and had first-hand experience with live animals from the field, such as sea stars, sea urchins, worms, and crabs, to understand exactly what we were learning about and the differences between all of them.

Week Two saw me almost sit on a 4-ft Stingray while diving, meeting a monkey, diving over and around a shipwreck, hiking another mountain to a former European fort, learning in-depth fish biology and fish adaptations and taking our course Mid-Term. The days were jam- packed.

After St. Kitts, we sailed to the peaceful island of Statia, where we had a family dinner on land and dove an old shipwreck that was a habitat for HUGE sharks. There, we helped Statia's conservation organization by trying to remove an invasive species of vine called coralita. Across the Leeward Islands, this vine has been critically damaging green spaces.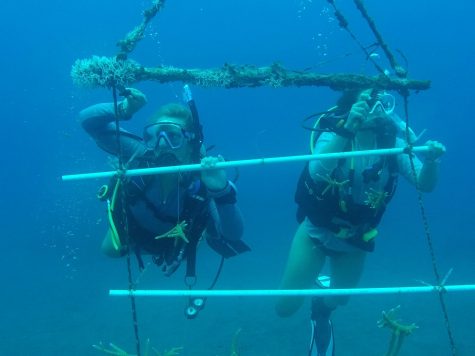 We were all looking forward to our next destination, Saba, because our instructors had told us how much we would love it there. While on the island, we were fortunate to do so many great things: we made glass beads with a local artist, helped a marine conservation center clean its coral trees, dove some of the most beautiful sites and took our final exam. During our stay in Saba we also had an entire day dedicated to diving.  We started at 6:45 in the morning and did our last dive at 8:45 in the evening. Saba Dive Day was incredible and yet another highlight of the trip.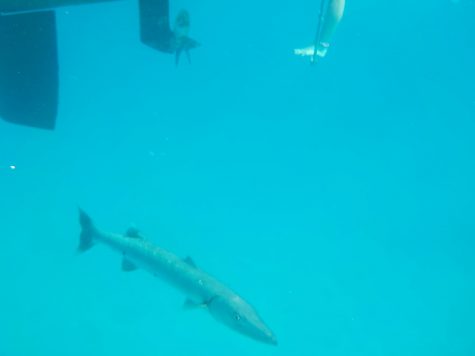 Our program was coming to a close. We did our last "family dive" together and sailed to our final destination of Tintamar before heading back to The Pad in St. Maarten. Our last day was spent helping the instructors prepare the boat for the next program. We cleaned–I mean cleaned–that boat, organized and stocked the new food, and packed all our belongings. Before we hit our sleeping bags, we took our last boat showers:  you jump into the ocean, shampoo, jump back into the ocean, then have 10 seconds of fresh water. That's your shower. We were all so sad. Saying goodbye to these new friends/boatmates and the greatest instructors ever was really hard. However, we all knew that we had shared the experience of a lifetime and made friendships that we will cherish for years.  We said our final goodbyes and loaded the bus for the airport. Broadreach taught me so much about myself, the marine environment, and what conservation efforts need to be in place. I know that this is my field of study and future career path. I'm so grateful I had this opportunity.
If you want to check some of the programs Broadreach offers go check out their website!   https://www.gobroadreach.com
Leave a Comment
About the Contributor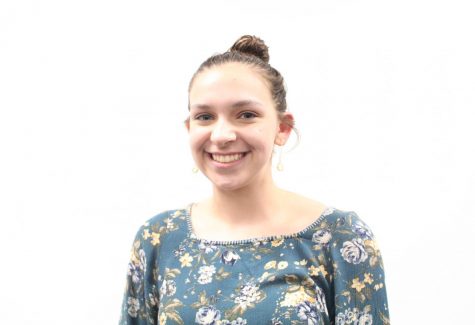 Julia Westwood, Swim Staff Writer
Julia is excited to write for Mustang Monthly again this year! Julia is a member of Kingwood's Varsity Swimming & Diving Team, NHS and Science NHS. ...