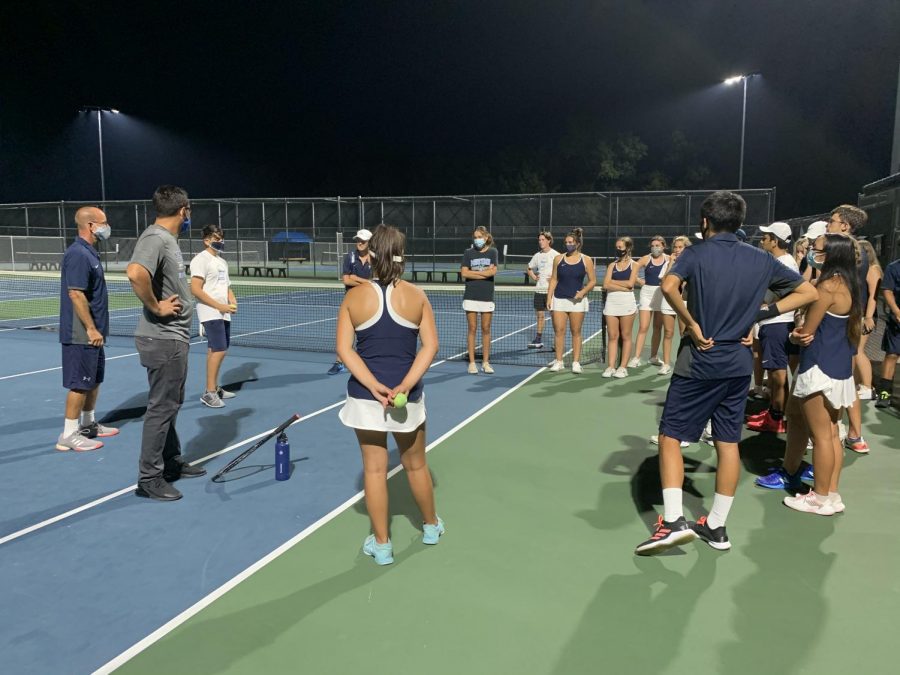 Tennis season is here! The team has been practicing since late summer for the season which started last week. Everyone has been getting along well and staying safe. We also acquired a new Assistant Coach, Coach Ruiz, who has been great in rolling up his sleeves and jumping right in with the team. He is friendly, helpful, and is willing to play with people who want to work on specific things or stay after practice similar to what Coach Dwyer did for us last year. We have had many shift changes with coaches over the past three years but finally see a steady hand on the KHS Tennis program.  Thanks to Coach Dwyer and Coach Ruiz who are putting in the time and care to make this happen for us this year.  This is my third year on the team and second year on Varsity and I can already sense the change to come together as a team working hard to represent Kingwood High School.  I have been inspired by our football team and their motto to RISE as One.  Stay tuned to Kingwood Tennis as we develop our own motto and personality of our team together. 
On Thursday, we beat Dobie High School and on Friday we beat a another strong opponent in Baytown Sterling. Everyone performed well in doubles while the singles were a bit shaky to start. Against Sterling, the girls pulled through as well as Adam Rodriguez and Luis Duarte who won key matches at line one and three. When four of the players dealt with cramps, captain Kyle Vinklarek fed them pickle juice which allowed two of them to win key matches an secure the win for the team. All of the boys matches went to tie breakers showing that this is a growing team with capacity and drive to make it happen.  We are ranked 10th in our Area/Region with hopes of moving up that list before heading into playoff season. Let's not forget the JV/Freshman teams as they start their journey to make a name for themselves with new teams and the struggle of an A/B practice start for the year.
Over the next few weeks, we have some tough opponents coming up including College Park High School on Friday, September 18th. Our next match at KHS is on October 2 against Humble. Anyone is welcome to come watch and support the team as long as you wear a mask and social distance. We will have a few more home matches later on in the season as well!