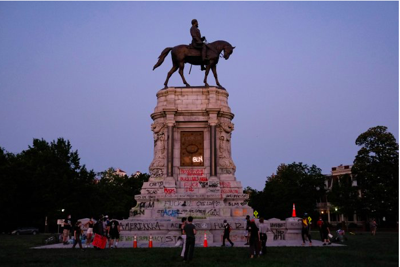 Nowadays, you could just look outside your window and see the protests that have been going on for the past week. While all the protests that have happened in Kingwood have been peaceful, the same cannot be said about the rest of the country. George Floyd's death has made a lot of people ponder and become aware of the common day racism that happens everyday, and because of that, the country is beginning to change. However, some have been more proactive than others in drastic ways. On June 4th, Virginia's governor Ralph Northam announced that the Robert E. Lee statue will be removed from the state capital. The statue had always caused controversy in the public eye, because it seemed to glorify the Confederates, which fought to keep African Americans slaves. In the recent protests in Virginia, the Robert E. Lee statue has been vandalized with messages such as "end police brutality" and "stop white supremacy."At a conference, the governor had stated that "In Virginia we no longer preach a false version of history." Governor Northam is setting a precedent that the glorification of the Confederate army and what it stood for will no longer be tolerated. Being in the south, we often turn a blind eye to what we think of these kinds of statues. In most of the southern region, these memorials serve as a type of southern history; however, for many, they are a painful reminder of the country's horrific past. Removing the Robert E. Lee statue allows the country to heal from all the violence and hatred that has been going on. As Governor Northam put it "it's time to put an end to the Lost Cause and fully embrace the righteous one." 
Sources:
Bogel-burroughs, Nicholas. "Virginia Governor Plans to Order Robert E. Lee Statue Removed." The New York Times, The New York Times, 3 June 2020, www.nytimes.com/2020/06/03/us/robert-e-lee-statue-richmond.html.
Chappell, Bill. "Massive Robert E. Lee Statue In Richmond, Va., Will Be Removed." NPR, NPR, 4 June 2020, www.npr.org/2020/06/04/869519175/massive-robert-e-lee-statue-in-richmond-va-will-be-removed.
Gregory S. Schneider, Laura Vozzella. "Northam Says Virginia Will Remove Lee Monument in Richmond." The Washington Post, WP Company, 4 June 2020, www.washingtonpost.com/local/northam-to-remove-lee-statue/2020/06/04/0b2c013c-a603-11ea-b473-04905b1af82b_story.html.
"Robert E Lee Statue: Virginia Governor Announces Removal of Monument." BBC News, BBC, 4 June 2020, www.bbc.com/news/world-us-canada-52920610.